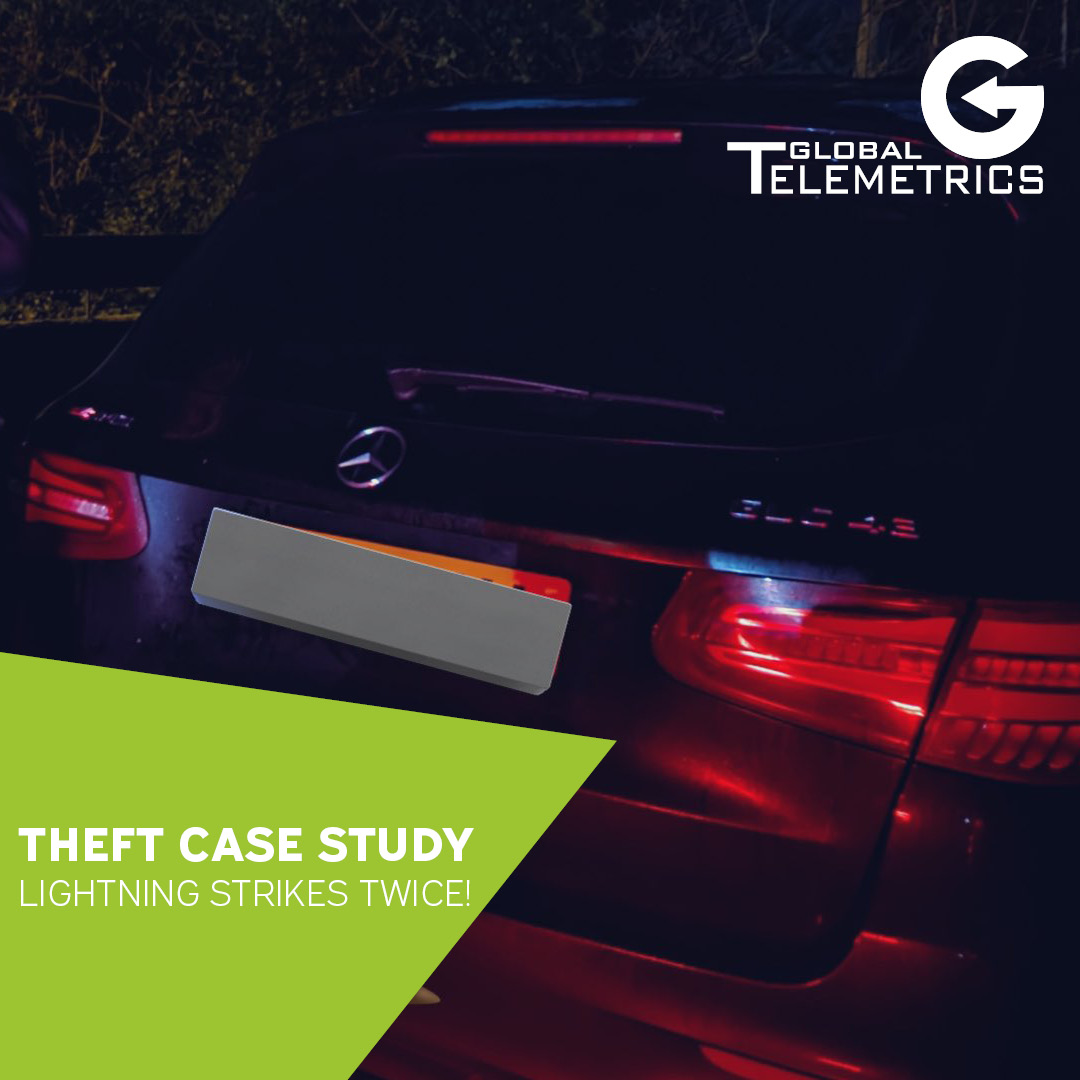 The old saying goes, lightning never strikes twice, however, when it came to our customers Mercedes AMG GLC 43 this was definitely not true. 
In the middle of January, we had a report from one of our finance customers that their customer's vehicle had been stolen. Global Telemetrics provides solutions for some of the UK's top finance and Insurance companies. 
In this case, our finance customers' own customer reported the vehicle was stolen in the early hours and the finance company contacted us for assistance. With the crime reference provided, our Auto-Crime Investigation Repatriation Team headed to the location provided via our SmarTrack tracking device. 
In the event of a standard theft of an asset the following process will occur: 
The customer will report their vehicle stolen on our dedicated theft line. Global Telemetrics will ring the customer to make them aware of one of the alerts that our system generates (vehicle moving without ignition, battery disconnected, Driver Detection not present)

If not already obtained, customer will be advised to ring the police and obtain a crime reference number

Global Telemetrics work with our agents who work alongside the police to secure your asset. Upon a receipt of crime reference number, agents will attend the location of your vehicle

As a safety precaution, upon notifying Global Telemetrics of a theft, access to your tracking data is temporarily disabled. We will keep the owner informed of any updates so they can rest assured everything is in hand. Global Telemetrics will not provide customers with an exact location of the asset to avoid an unintentional endangerment to life

When the vehicle is secured, Global Telemetrics will call the customer to confirm that the vehicle is safe

The police will arrange with the customer collection of the vehicle either from its location or after recovery and forensic examination 
This one was a fairly straight forward recovery. The vehicle was located and secured and the customer was able to collect the vehicle and return it to his home address with ease. Job done, case closed, another win for the good guys! Or so it seemed…..
When our Repatriations team receive notification of a stolen vehicle, they liaise directly with police to get the vehicle secured and recovered either to the customer or for SOCO. Naturally, because of this our team has a very good working relationship with police and they keep in close contact. 
Later that night, police contacted our Repatriations agents to let them know it had been stolen again! With a new crime reference number in hand and a call to our Secure Control Centre, our Repatriations agents quickly sprung into action and headed to the location, once again provided by our Secure Control Centre. Within 40 minutes of being reported to Global Telemetrics, the vehicle was secured and this time with a stay at a Met Police controlled location overnight until the customer was able to collect. 
This case is a rarity, for a vehicle to be stolen twice in one day but it isn't by any means unique. As car theft rises in the UK and criminals become more desperate this is something we could easily see a lot more of. Thankfully, because of the SmarTrack device, expertly hidden away inside the vehicle, the thieves were unable to get away with the vehicle. Chances are however that this was a vehicle to order, which means a Mercedes without a tracker may well now be in the wrong hands. 
To prevent your vehicle being in the wrong hands visit our website https://smartrack.uk.net or give us a call on: 0800 279 6401 or email via: sales@smartrack.uk.net
You can also find all of our social media channels here: https://linktr.ee/globaltelemetrics
This February, Global Telemetrics recovered £2.5m worth of vehicles. This is £500k more than February of 2022, and £800k more than February of 2021, highlighting the continuing rising trend in vehicle theft across the UK.
We remain on course to hit our projected recovery total of over £40m worth of vehicles by year-end 2023, compared with £38.6m worth of vehicles recovered in 2022.
Staycations are becoming ever-popular, and with spring around the corner, motorhomes and caravans across the country will soon be out on the roads again. Whilst these home-from-homes continue to gain demand, it will unfortunately lead to a likely rise in stolen vehicles.
In 2022, Global Telemetrics were responsible for the recovery of £38.6m worth of vehicles. Fiat Ducato motorhomes were the 3rd highest recovered vehicle of the year, making up for over £1m of recoveries. Other motorhome and Caravan brands such as Auto-Trail, Bailey and Adria also appeared on the list, accounting for almost £800k of recoveries.
Global Telemetrics has had a kick start to the year, with £3.4m worth of vehicles recovered during January alone. 
At this rate, we are projected to recover over £40m worth of vehicles by year-end 2023, compared with the £38.6m worth of vehicles we recovered in 2022.