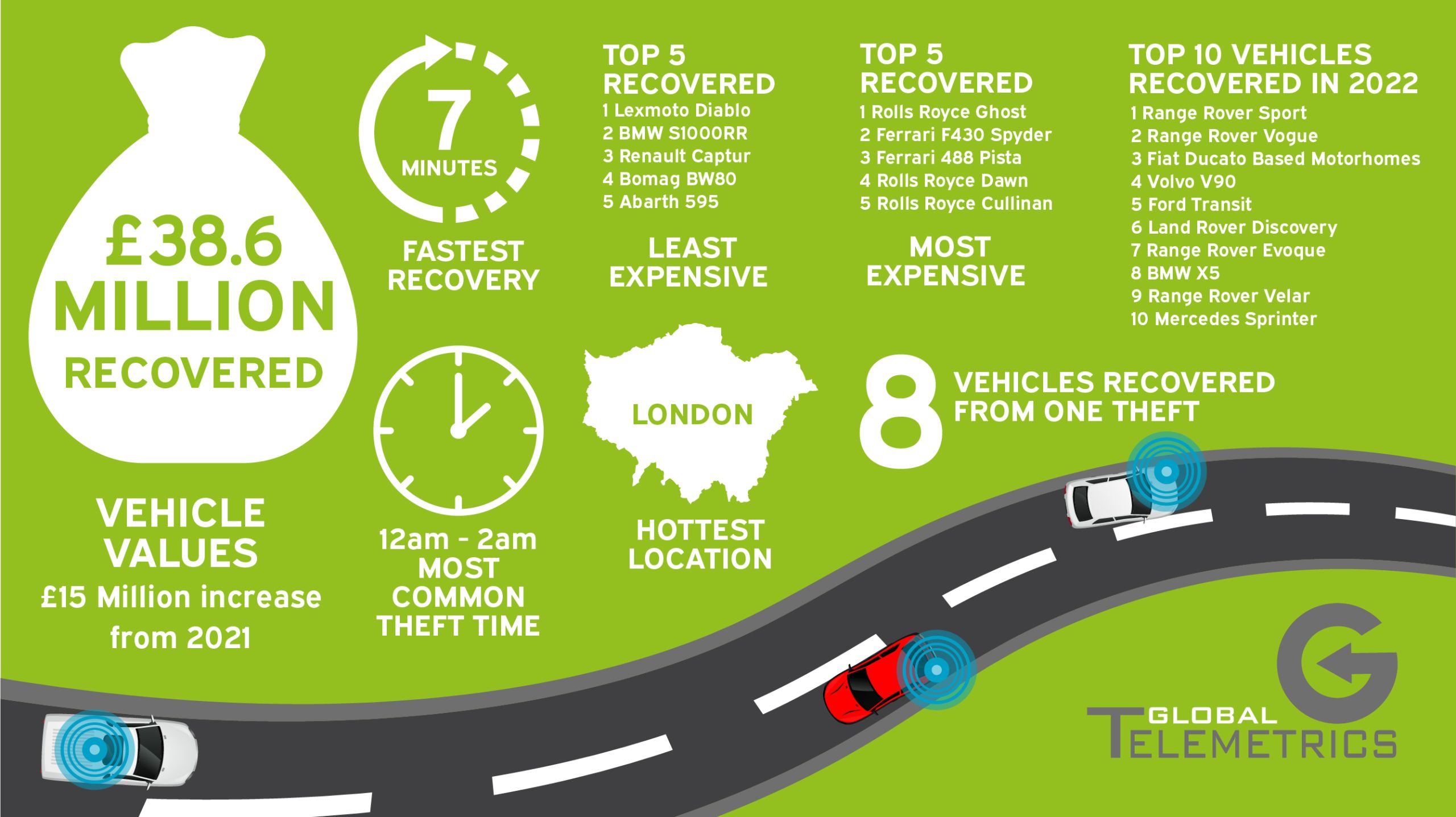 What a 12 months 2022 has been, COVID restrictions were all but removed with most countries reopening international borders. Queen Elizabeth II passed away after the longest reign of any monarch in English history. We also lost great entertainers in Olivia Newton-John, Angela Lansbury and Pele. England women won the Euros, whilst the men reached the quarter final of the World Cup, which would then be won by Lionel Messi's Argentina, which to most ended the greatest ever player argument. Neighbours left our screens after 30 plus years only to be announced to be coming back in 2023 not too long after and Avatar finally had its long awaited sequel released. 
In the auto industry we saw the releases of the Ferrari 296 GTB, a brand new Range Rover arrived in April, the Lotus Emira, a facelift for the BMW 3 series and the Porsche GT3 RS 992 amongst others.
Just like the years before, the auto industry continues to be at war with car theft and this certainly hasn't shown any signs of slowing down. For 2022, Global Telemetrics announces a recovery total of £38.6m. This is a £15m rise from £23m in 2021. 
Land Rover / Range Rover continues to dominate when it comes to the most recovered vehicle, over 55% of all vehicles recovered by Global Telemetrics in 2022 were a model of Jaguar Land Rover. This 55% equated to over £23m alone which is more than last year's recovery total overall. The most popular model of Range Rover recovered is the Range Rover Sport with more than 3 times the amount of Range Rover Sports recovered than any other model. The Range Rover Vogue was second. Making up the top 5 of the most recovered vehicles for 2022 are models of Fiat Ducato Motorhomes, the Volvo V90 and the Ford Transit. 
The top 10 in full for 2022 was: 
Range Rover Sport

Range Rover Vogue

Fiat Ducato Based Motorhomes

Volvo V90

Ford Transit 

Land Rover Discovery 

Range Rover Evoque 

BMW X5

Range Rover Velar

Mercedes Sprinter 
Throughout the year Global Telemetrics launched a number of campaigns aimed towards vehicles such as the ones in the top 10 above. Motorhomes were targeted for a long period of the year especially during the nice weather, but sadly even in storage we saw a number of vehicles taken from their storage yards.
Relay and keyless theft has continued to be a major issue for car owners during 2022, with keyless entry vehicles still at risk of being stolen within minutes through this method. During 2022, Global Telemetrics released a number of videos featuring either real theft footage from customer provided CCTV or real audio from customers calls to help to highlight the issue. Despite this, as well as press coverage and police campaigns, the numbers continue to rise and people are still not taking full precautions to further protect their vehicles. All of our videos can be found across all of our social media platforms. 
Ford Transits and Mercedes Sprinters featured in the top 10 for 2022 and this had coincided with a rise in parcel theft in the UK. Global Telemetrics had a number of instances where thieves would follow a delivery van and then pounce when the opportunity arose during a drop off to steal the vehicle and attempt to steal the parcels. Thankfully due to some quick work from our Auto-Crime Investigations Repatriations Teams we successfully recovered a number of vans before the parcels could be stolen. Global Telemetrics offer a number of fleet solutions with Stolen Vehicle Recovery options which can be found here: https://smartrack.uk.net/products-for-vehicles-used-for-commercial-usage/ 
During the winter months awareness was launched by Global Telemetrics and a number of Police Forces to remind vehicle owners not to leave their vehicle unattended whilst defrosting / warming up. A number of cases have been reported where this is still happening across the country and vehicles are being taken easily by thieves. As the cold weather continues into the new year, it is still very relevant and important that vehicle owners are not leaving their vehicles unattended in the morning when defrosting. 
This year, Global Telemetrics were responsible for the recovery of some high priced vehicles for our customers with numerous vehicles priced around the £300,000 mark being recovered. These included Rolls Royce Dawns, Ghosts and Cullinans, Ferrari 488 Pista and a Ferrari F430 Spyder. 
It's not only high end vehicles that we recover however, the 5 least expensive vehicles that we recovered this year were a Lexmoto Diablo, a BMW S1000 RR, a Renault Captur, a Bomag BW80 Roller and an Abarth 595 c Turismo. As you can see from this list our SmarTrack devices can be installed on motorbikes as well as plant machinery. Throughout 2022, we helped many bike fleet and plant operators recover their stolen vehicles. Information on all our product types can be found on the product tab at https://smartrack.uk.net/ 
London by far had the biggest number of thefts with just under 30% of all recoveries this year being stolen in the London area, more than double of any other area. Birmingham and the West Midlands were in second place with South Yorkshire close behind, Lancashire and Essex finished off the top 5. 
What can we expect in 2023? Over the last 2 years we have had significant increases in our recovery values and this is not expected to change any time soon. As more keyless entry cars become available on the market and car manufacturers seemingly unwilling to address the ease of which these can be stolen we can only expect the numbers to continue to rise.
Our S5+ iMOB system is an excellent first defence against these types of thefts, even if keys are cloned or access gained through relay method our S5+ iMOB system stays immobilised unless the Driver Detection Card is present and switched on. We have seen a number of instances where even though the thieves have gained access to the vehicles they have been unable to drive off as they expected and have instead given up. 
To protect your assets, further information on the products we provide can be found on our website https://smartrack.uk.net or by giving us a call on: 0800 279 6401 or via email at: sales@smartrack.uk.net
You can also find all of our social media channels here: https://linktr.ee/globaltelemetrics
Global Telemetrics are proud to announce that during Quarter 3 of 2023 we have recovered £8m worth of vehicles which now puts us on a total of £29.8m for 2023 as a whole.
Q3 for 2023 see's a rise of 300k on last year's Q3 and £3.3m ahead of 2022's by Q3 total recovered value of £26.5m.
During September, Global Telemetrics were responsible for the recovery of £3.1m worth of vehicles.
Stolen cars worth £3.2 million pounds were recovered by Global Telemetrics in August 2023.