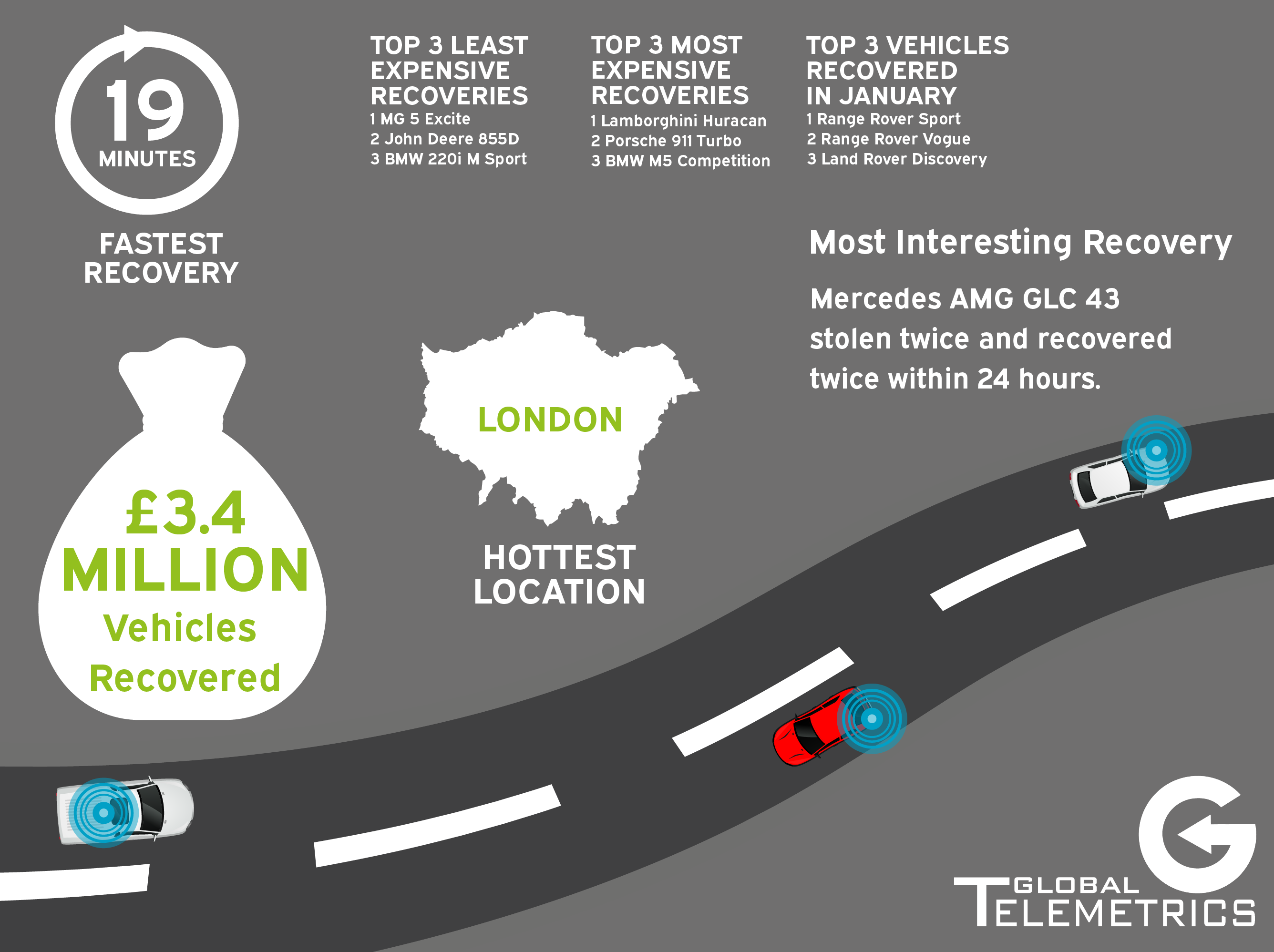 Global Telemetrics has had a kick start to the year, with £3.4m worth of vehicles recovered during January alone. 
At this rate, we are projected to recover over £40m worth of vehicles by year-end 2023, compared with the £38.6m worth of vehicles we recovered in 2022.
January facts and figures
As expected, Land Rover and Range Rover continue to hold the top spot as the most stolen vehicles, making up for 50% of all recoveries in January. Luckily our Stolen Vehicle Recovery (SVR) teams are always ready to spring to action in these instances, with our quickest recovery of the month at 19 minutes, for a Range Rover Sport.
Other notable vehicles recovered this month include a BMW M5, BMW M4, two Audi Q7s, a Mercedes GLC, a Porsche 911 Turbo, a Lamborghini Huracan, and a Ford Ranger Wildtrak.
We have also seen an increase in Lexus RX 450H thefts, on vehicles tracked by Global Telemetrics, as well as across social media platforms with many cases being caught on CCTV footage. 
9% of recoveries this month were motorhomes, compared with 3% last month, highlighting how much more of a target these vehicles are becoming. Recently Global Telemetrics released a short awareness film to highlight Motorhome and Caravan theft, which can be viewed below.
As our customers know, it isn't cars alone that we recover at Global Telemetrics, and this month we recovered a John Deere 855D. Hapless thieves attempted to outrun our teams and the police and made a last ditch attempt to hide the vehicle. Nevertheless, the team was successful and the vehicle was reunited with its owner.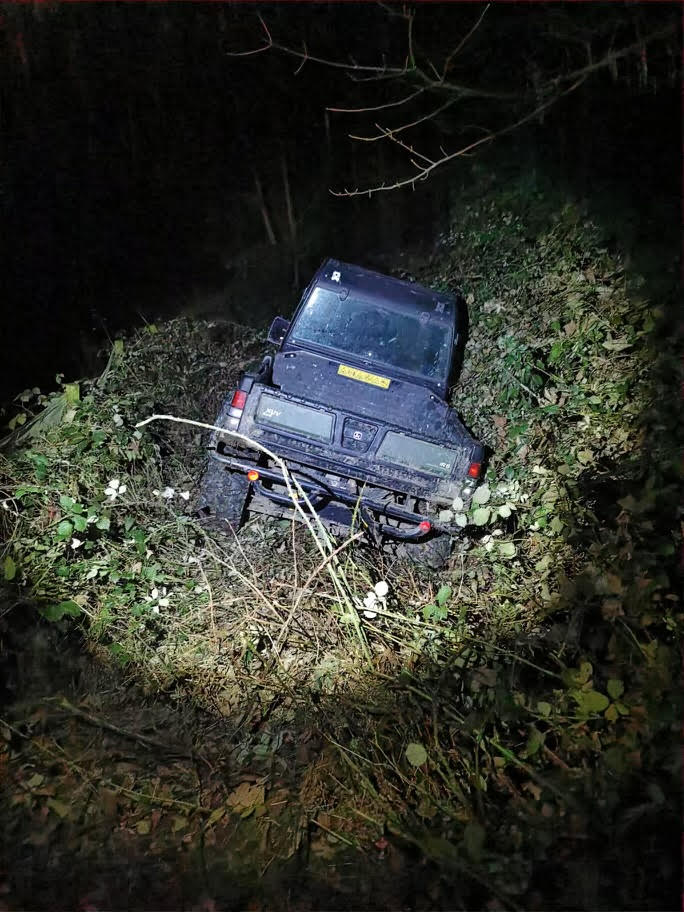 In all vehicle theft cases, our Secure Control Centre will notify our Repatriations Team of a stolen vehicle's moving location, who will then work with the police to locate and track down the vehicle before moving to a secure site. To see this process in motion, watch this video
London remains a high-risk area, with 26% of all recoveries in London this January.
The West Midlands are close behind, representing 15% of recoveries in the country. Essex saw 12% of recoveries. 
On the rise, are recoveries in Glasgow, accounting for 6% of all recoveries in January. Last January, we recovered no vehicles at all in Glasgow. Intelligence from our Repatriations Team indicates that there has been an increase of criminal gangs in Glasgow, which is leading to a massive rise of vehicle theft in the city.
Most interesting case
This month, we had an extremely unusual case, whereby our customer's vehicle was stolen twice in 24 hours! First, the car was stolen in the early hours of the morning. Once our team had located and returned the vehicle back to its owner, it was later stolen again that following evening. The second recovery was achieved in just 40 minutes. To find out more about this theft, click here. 
Looking forward
As we did in 2022, we will continue to track hotspots for thefts throughout the year, so that our customers can remain equipped and aware of the risks out there. 
Whilst we crawl through the final weeks of winter, our customers are advised not to leave their car unattended during de-icing. In January alone, 4 instances of stolen vehicles were recorded by the police, for this very reason in just one weekend. 
 To protect your assets, further information on the products we provide can be found on our website https://smartrack.uk.net or by giving us a call on: 0800 279 6401 or via email at: sales@smartrack.uk.net
You can also find all of our social media channels here: https://linktr.ee/globaltelemetrics 
This February, Global Telemetrics recovered £2.5m worth of vehicles. This is £500k more than February of 2022, and £800k more than February of 2021, highlighting the continuing rising trend in vehicle theft across the UK.
We remain on course to hit our projected recovery total of over £40m worth of vehicles by year-end 2023, compared with £38.6m worth of vehicles recovered in 2022.
Staycations are becoming ever-popular, and with spring around the corner, motorhomes and caravans across the country will soon be out on the roads again. Whilst these home-from-homes continue to gain demand, it will unfortunately lead to a likely rise in stolen vehicles.
In 2022, Global Telemetrics were responsible for the recovery of £38.6m worth of vehicles. Fiat Ducato motorhomes were the 3rd highest recovered vehicle of the year, making up for over £1m of recoveries. Other motorhome and Caravan brands such as Auto-Trail, Bailey and Adria also appeared on the list, accounting for almost £800k of recoveries.
The old saying goes, lightning never strikes twice, however, when it came to our customers Mercedes AMG GLC 43 this was definitely not true.