Autumn is quickly changing into winter, the spooky season has been and gone and ghouls and goblins were out stealing vehicles. During September, Global Telemetrics were responsible for the recovery of £3.1m worth of vehicles. This represents the second year running that vehicle recoveries have risen during September and also now see's our total for 2023 hitting £29.8m, now just £7m away from surpassing the total for 2022.
September's Facts and Figures
After last month's brief period away from the top of the vehicles recovered list, Jaguar Land Rover has regained its spot at number one. 35% of all vehicles recovered during September were a model of Jaguar Land Rover with the Rage Rover Sport being the most prevalent, equating to 25% of all recoveries for the month. 
Other vehicles recovered this month included: Ford Ranger, Ford Transit, Ford Fiesta, Bentley Bentayga, Fiat Ducato based Motorhomes, Citroen Relays, Fiat Swift Escape, Peugeot Boxer Motorhomes, Audi E-Tron and a Mercedes GLA. 
Septembers Fastest Recovery
In the opening days of September, our customer called our Secure Control Centre to report that their Range Rover Sport had been stolen from their driveway, even though they had a steering lock in place. 12 minutes later our Repatriations Team and the police had the vehicle safe and secure thanks to the location given by the SmarTrack device installed. 
Septembers Most Interesting Recovery
Early in September one of our finance customers informed us that their customer had their Bentley stolen from their home address. Quickly our Secure Control Centre confirmed the location of the vehicle from the SmarTrack device installed and armed our Repatriations Team with the location of a unit in Sheffield. Upon arriving and entering the unit the police and our team found not just our customer's Bentley but 6 other cars including an Audi, a BMW, Land Rovers and another Bentley.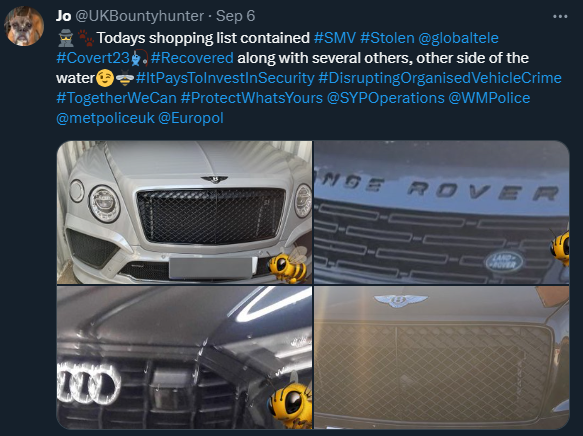 Hotspots 
London was once again our hottest area for recoveries during September with 35% of all recoveries during the month being stolen in a London borough. This follows the pattern of the year as London currently leads the way for 2023 with 29% of all recoveries being in the London area. In London itself, Croydon and Kensington and Chelsea were the boroughs most popular for recoveries. Areas of Yorkshire claimed second and third place with 15% of vehicles recovered being in West Yorkshire and 10% of all recovered being South Yorkshire. 
Looking Forward
October half term week saw the NEC Motorhome and Caravan Show run between the 17th to 22nd our team was in attendance supporting our friends at Motorguard with their ESA Track device. 
This was pertinently important as during September Global Telemetrics has seen a spike in motorhome theft. So much so, that during September we had 2 motorhomes recovered within 12 hours in separate parts of the country and have recovered more motorhomes throughout the month. Motorhomes made up 25% of all vehicle recoveries for September.
Global Telemetrics are proud to announce that during Quarter 3 of 2023 we have recovered £8m worth of vehicles which now puts us on a total of £29.8m for 2023 as a whole.
Q3 for 2023 see's a rise of 300k on last year's Q3 and £3.3m ahead of 2022's by Q3 total recovered value of £26.5m.
During September, Global Telemetrics were responsible for the recovery of £3.1m worth of vehicles.
Stolen cars worth £3.2 million pounds were recovered by Global Telemetrics in August 2023.