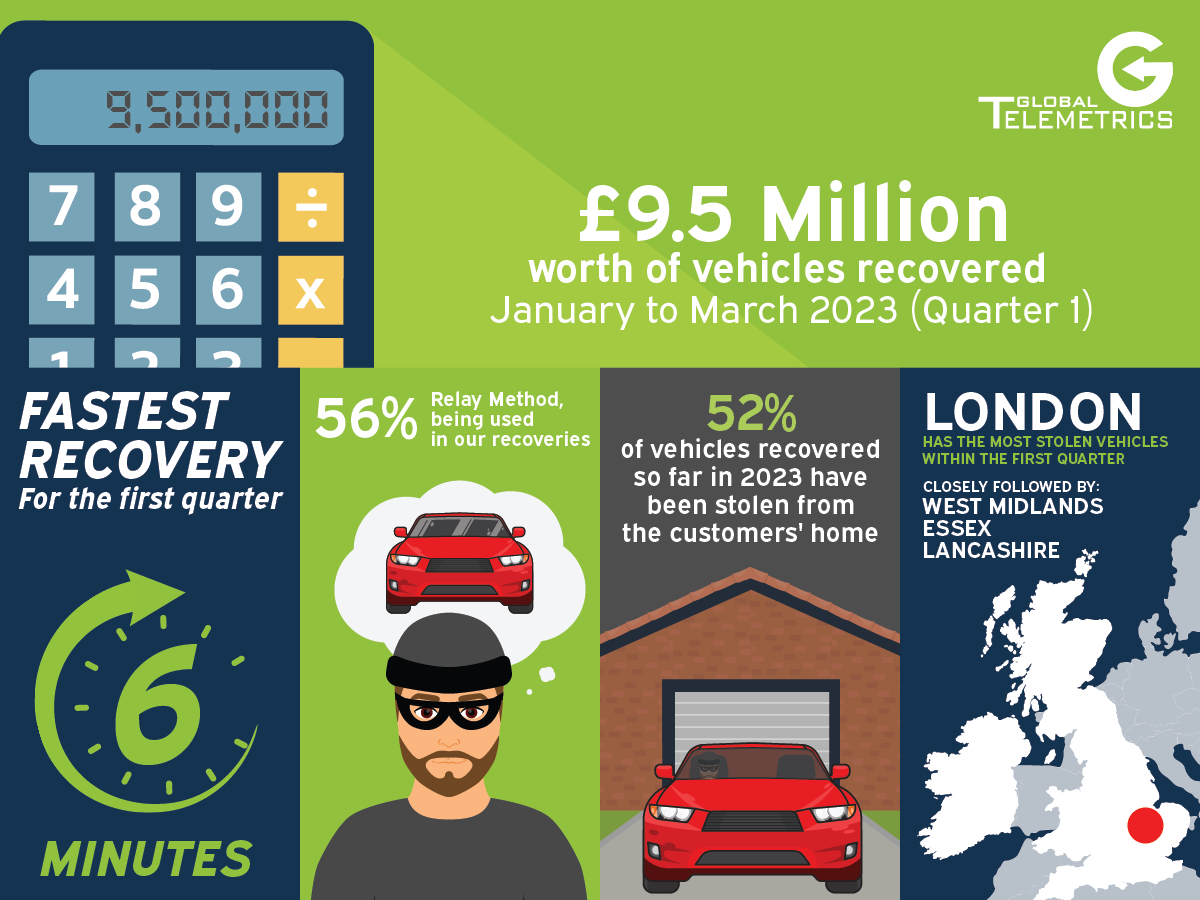 Global Telemetrics are proud to announce that we have been responsible for the recovery of £9.5m worth of vehicles in Q1 of 2023.
In 2022, Global Telemetrics successfully recovered £38.6m worth of vehicles and in 2023 projections remain on course to recover in excess of £40m. 
Q1 The Facts and Figures
To find out more about how we achieved our £9.5m recovery figure, read our monthly highlights below:
Methods and Locations in Q1 2023
This quarter,  Global Telemetrics have been monitoring the methods of theft used on the vehicles we have recovered. Most commonly, we see the Relay Method being used in 56% of all thefts (30% higher than any other method for Q1). The Relay Method involves thieves using a handheld device that is positioned near to a customer's location, which scans for the signal of keys. Once this signal is picked up, it relays the signal back to a second device, which is positioned next to the car. This replicates the signal of the key, allowing the car to be opened and driven off successfully. This can be done in as little as 90 seconds. 
Global Telemetrics can offer a solution to this problem. 
Our S5 devices (that have Bluetooth Detection Cards) will be provided with a faraday pouch to put both the keys and cards into. This stops the key signal being able to be relayed. 

Our SmarTrack S5+ iMob system (that comes with Bluetooth Detection Cards) can be switched off. Once switched off or out of range, the tracking device will immobilise the vehicle. This means that even if the keys have been replicated in a relay attack, the vehicle will still not start. In 2022, Global Telemetrics released a theft reconstruction which shows the relay method in action. This can be viewed below: 
Locations of theft
Data gathered shows that 52% of all vehicles recovered so far in 2023 have been stolen from customers' home addresses, with 16% stolen from other residential locations. The third most common location for thefts is public car parks, making up for 12%. Unknown locations equated to a further 12% so these figures are likely to be slightly higher. 
London remains our busiest hotspot for vehicles stolen and recovered throughout the first quarter of 2023, to find out more stats about these locations please refer to our previous monthly highlights. 
Looking Forward 
Over the first few days of Q2, Global Telemetrics were involved in a substantial recovery of vehicles, worth £2.5m, meaning that we expect to see significant figures in the April totals. As the weather warms, motorhomes, caravans and vehicles that have been tucked away over winter will be at higher risk of theft once back out of storage. Having a SmarTrack tracker significantly decreases the chances of vehicle owners turning up at their storage yards to find that their vehicles have been stolen.
Global Telemetrics will be gearing up for the start of Q3, where we will once again be a Premier Partner for the Supercar Driver Secret Meet. This is an event we are very proud and excited to be a continued part of. Further information can be found across the Supercar-Driver social media channels, and on their website. 
In June, a collective of Global Telemetrics team members and directors will be competing in the Tough Mudder run for charity, a 15km course with 30 obstacles to challenge all those that take part. Our colleagues will be supporting Rainbows Hospice for Children and Young People in Loughborough. More information about the amazing work Rainbows do can be found here https://www.rainbows.co.uk/ and you can donate to our team through their just giving link which can be found here
To protect your assets, further information on the products we provide can be found on our website https://smartrack.uk.net or by giving us a call on: 0800 279 6401 or via email at: sales@smartrack.uk.net
You can also find all of our social media channels here: https://linktr.ee/globaltelemetrics 
Global Telemetrics are proud to announce that during Quarter 3 of 2023 we have recovered £8m worth of vehicles which now puts us on a total of £29.8m for 2023 as a whole.
Q3 for 2023 see's a rise of 300k on last year's Q3 and £3.3m ahead of 2022's by Q3 total recovered value of £26.5m.
During September, Global Telemetrics were responsible for the recovery of £3.1m worth of vehicles.
Stolen cars worth £3.2 million pounds were recovered by Global Telemetrics in August 2023.