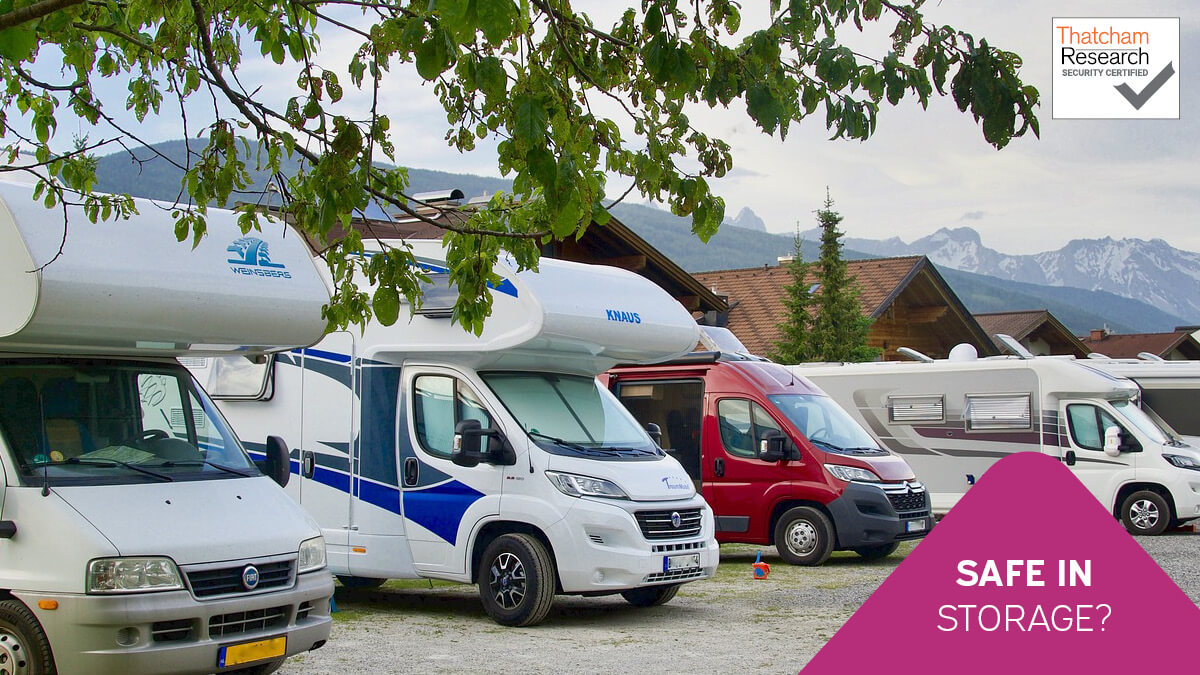 This week sees the NEC host the Motorhome and Caravan Show 2022 and Global Telemetrics will be in attendance. With this in mind we are this week looking at motorhomes and caravans.
Now we have entered the autumn months, the days begin to get shorter and the nights longer, we are now beginning to see caravans and motorhomes head to their winter homes back to storage 
For many customers this will provide peace of mind and they will believe their vehicles to be safe behind gated properties. For the most part this will of course be correct, however, in our experience it is sadly not a guarantee. 
As a company we have seen on far too many occasions vehicles taken and removed from storage facilities without the customer present or being aware. 
Earlier in the year one of our case studies reported exactly this situation, thieves posing as the owners were able to drive into a storage facility and drive away with a caravan, uninterrupted, without any questions asked (more details of which can be found here  https://smartrack.uk.net/vehicle_theft_case_study_caravan/) thankfully for the rightful owners of this caravan, they had one of our SmarTrack devices installed and we were, alongside the police, able to locate and recover the caravan for the customer. 
Another case study earlier this summer, highlighted a situation where upon recovering a caravan fitted with a SmarTrack Caravan Protector our Repatriations Team found 3 other caravans without our trackers too! To read more about this one visit https://smartrack.uk.net/caravan_tracking_device_helps_police_locate_more_than_one_vehicle_4_vehicles_found/ 
Our SmarTrack devices, as well as helping to locate the vehicle if the worst should occur, also offer customers a way of remotely keeping watch. Our GTE Track app offers battery status indications and alerts as well as the option to connect an already installed alarm to the tracker which will generate an alert through the app and to our 24/7 staffed Secure Control Centre. 
A quick Google search for 'motorhome theft' produces a number of results of local news alerts regarding motorhomes, which confirms that they are still currently being targeted around the country. An example of which can be found here:https://www.elystandard.co.uk/news/crime/couple-fearful-after-cottenham-motorhome-theft-9283326 
Models of motorhomes and caravans have featured regularly in our own recovery highlights with over £1 million pounds worth of recovered vehicles so far this year. 
To protect your device https://smartrack.uk.net/products-for-vehicles-used-for-personal-use/ 
You can also find all of our social media channels here: https://linktr.ee/globaltelemetrics 
Clocks have gone back and dark nights are here. Soon cars will start to freeze over and the age old problem of people leaving their vehicles unattended will begin to arise. Meanwhile Spooky Season was lively as the ghouls and goblins were out stealing cars.
Recovery totals have now hit £30 million for the year as October's recovery totals hit just under £2.9 million. This was £1 million more than the same period last year. Car theft is showing no signs of slowing down as the year comes to a close.
Three more eventful months have passed and we now find ourselves at the end of Q3 and into Q4.The football season restarted and the World Cup isn't far away, a Tennis legend retired, Kylie and Jason revisited Ramsay Street as we said goodbye to Neighbours. We now have a new King after a historic world record reign from Queen Elizabeth II.
For Global Telemetrics, we have now surpassed last year's recovery total. 2021 saw £23 million pounds worth of vehicles recovered but now at the end of September 2022 this figure sits at £28m
2022 has been a successful year when it comes to recoveries for Global Telemetrics, not only did we surpass our total from 2021 as early as September, we have seen a number of our recoveries lead to other vehicles being recovered at the same time, allowing us to reunite more customers with their vehicles. The following case is one of those incidents.