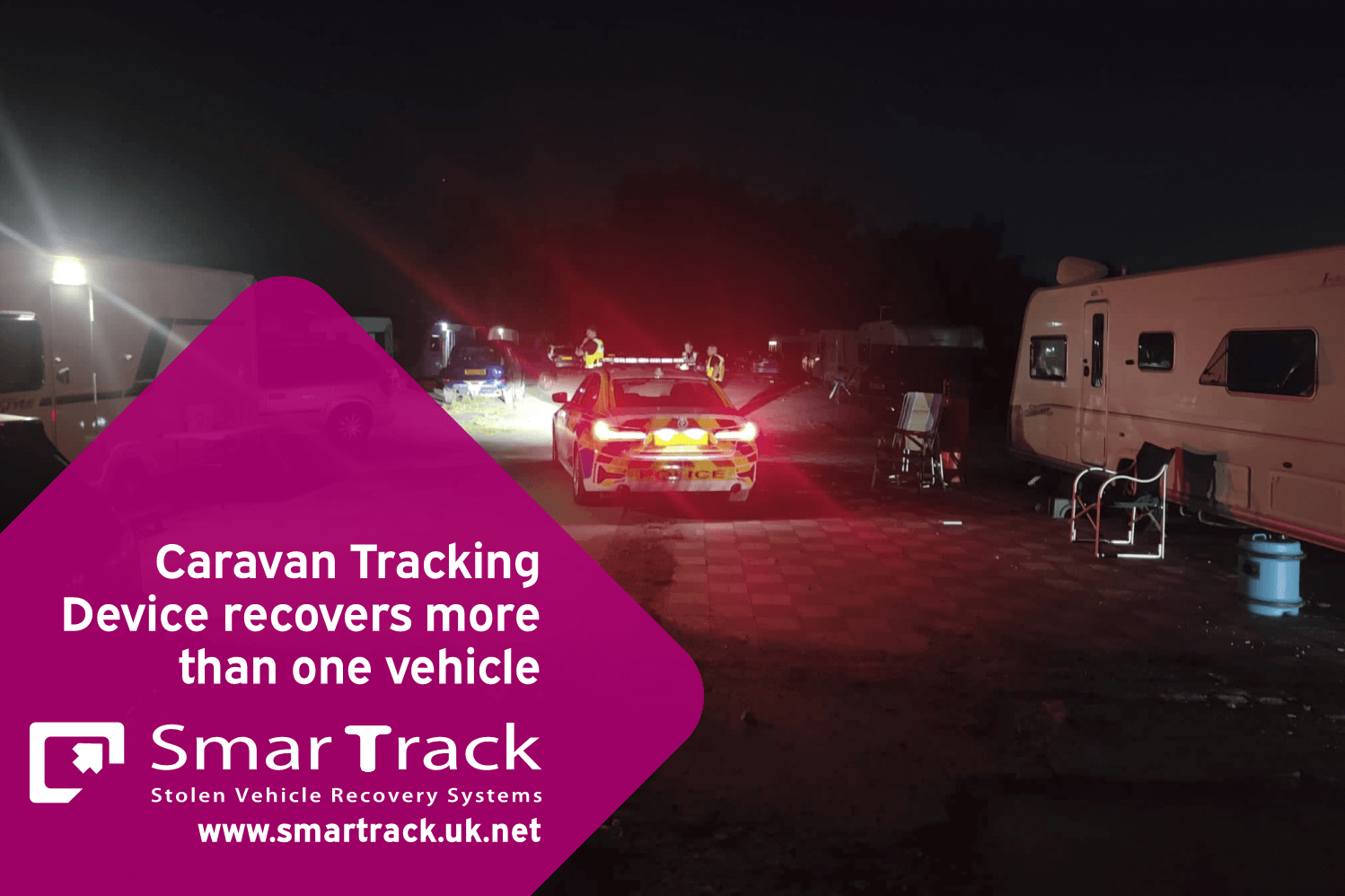 Theft Case Study – Find 1 Get 3 Free
SmarTrack products have once again been vital in the fight against vehicle theft as the recovery of one tracked caravan has led to 3 other untracked caravans being recovered on the same site. 
At the start of July, in the early hours of the morning, our control centre team received a movement notification from one of our customer's caravans. The team could see that it was moving away from its usual storage unit. Julie at the control centre was quick to call the customer to find out if everything was ok.
At first, the customer didn't answer, but within minutes quickly called our dedicated theft line. As suspected, (with the 2am time) the customer was completely unaware of the caravan's movements, infact, this customer was actually on holiday and out of the country! 
The customer confirmed that the vehicle must have been stolen and another of our Stolen Vehicle Recovery Liaison Officer's Chris, advised the owner to contact the out of country reports number for Derbyshire police. 
While the customer was obtaining a crime reference number Chris called our Repatriations Team to explain the situation and provide up to date information of coordinates and where the vehicle was travelling. Our team quickly mobilised into action to make sure they were in the area ready for the good to go with a crime reference number in hand. 
In the usual event of a theft of an asset the following process will occur: 
Customer will report their vehicle stolen on our dedicated theft line/Global Telemetrics will ring the customer to make them aware of one of the alerts that our system generates (Vehicle moving without ignition, Battery disconnected, Driver Detection not present)

If not already obtained, customer will be advised to ring the police and obtain a crime reference number

Global Telemetrics work with our agents who work alongside the police to secure your asset. Upon a receipt of crime reference number, agents will attend the location of your vehicle

As a safety precaution, upon notifying Global Telemetrics of a theft all access to our apps is temporarily disabled. We will keep the owner informed of any updates so they can rest assured everything is in hand. Global Telemetrics will not provide customers with an exact location of the asset to avoid customers endangering themselves

When the vehicle is secured, Global Telemetrics will call the customer to confirm that the vehicle is safe

The police will arrange with the customer collection of the vehicle either from its location or after recovery and forensic examination 
Our repatriations team and police forces quickly worked together to attend the location where the vehicle had stopped. Within an hour from being reported our repatriations team confirmed that the police had entered the site and had located the caravan. The police were in for a pleasant surprise, as not only was our customer's vehicle at the campsite, 3 other caravans reported as stolen were also found at the location. 
A joint operation between our team in the control centre, our repatriations team and 3 police forces means that 4 caravans all stolen within the Derbyshire area were now able to be reunited with their owners. 
Thefts of vehicles can occur at any time, any place and wherever you are! This caravan was housed at a 'secured' caravan storage facility and stolen whilst the customer was on holiday. Our devices not only were able to accurately pinpoint the exact coordinates of this caravan but led to the discovery of even more stolen assets. 
To protect your vehicle, further information on the products we provide including our S7 Caravan Protector Device can be found on our website 
https://smartrack.uk.net/caravan-protector-thatcham-s7/ or by giving us a call on: 0800 279 6401 or via sales@smartrack.uk.net
You can also find us on social media at:
Twitter: @globaltele
Facebook: www.facebook.com/globaltelemetrics
Instagram: @globaltelemetrics
Tiktok: @globaltelemetrics
Youtube: https://www.youtube.com/globaltelemetrics
LinkedIn: https://www.linkedin.com/company/global-telemetrics
2022 is at its halfway point, a year that has already seen the Winter Olympics, War in the Ukraine, Fossils found from the same time as the impact that killed the dinosaurs, Elon Musk buying twitter then possibly pulling out of buying Twitter, Nottingham Forest ending a 23 year exile from top flight football and the UK getting actual points and coming second in Eurovision.
For Global Telemetrics, at the halfway point of the year we are less than £3 million pounds away from matching the total of vehicles recovered for the whole of 2021. In 2021, Global Telemetrics successfully recovered £23 million pounds worth of vehicles. At the end of Quarter 2 for 2022 we are currently at £20.5 million with £8.5m recovered in this second quarter alone.
Earlier on in July we had a report to our control centre that our customers' Range Rover SVR had been stolen. After contacting our control centre armed with their crime reference number our Stolen Vehicle Recovery Team leaped into action and immediately started the process of locating the vehicle.
So far, halfway throughout the year Range Rover's have made up 60% of all vehicles recovered by Global Telemetrics.
In 2019, Supercar Driver hosted the incredibly successful Secret Meet at Donington Park. This year, was the fourth instalment of the highly anticipated event at this location, which saw the largest gathering of the Ferrari big 5 in the world.
Global Telemetrics this year were honoured to be sponsors of this event alongside the other excellent sponsors: Pirelli, JBR Capital and DTO Motorsport. Partnering with SB Race Engineering, Horsepower Racing and Car Audio Security Global Telmetrics were able to offer a one of a kind track experience alongside either Paul Bailey or Ross Wylie.