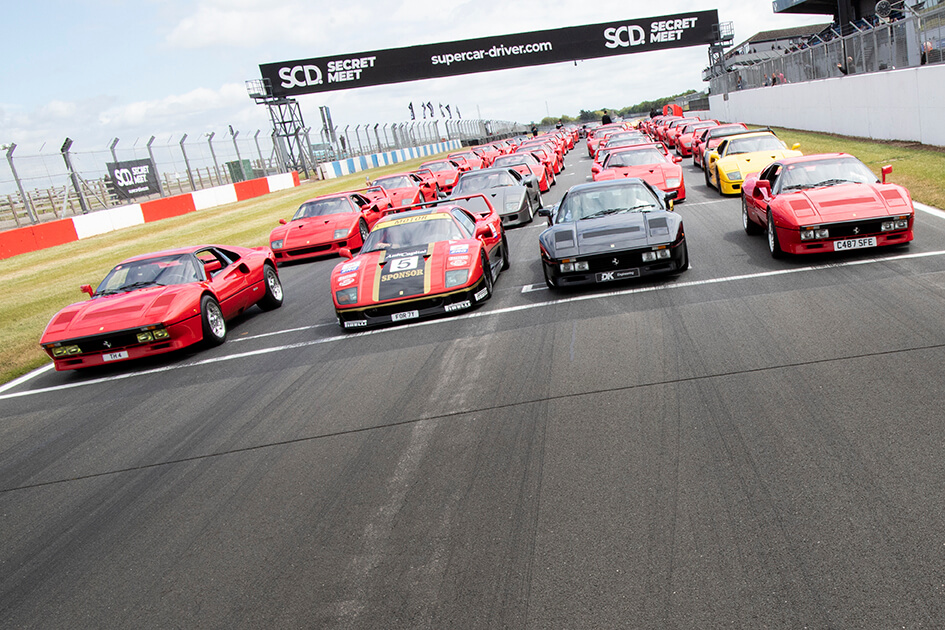 In 2019, Supercar Driver hosted the incredibly successful Secret Meet at Donington Park. This year, was the fourth instalment of the highly anticipated event at this location, which saw the largest gathering of the Ferrari big 5 in the world. 
Global Telemetrics this year were honoured to be sponsors of this event alongside the other excellent sponsors: Pirelli, JBR Capital and DTO Motorsport. Partnering with SB Race Engineering, Horsepower Racing and Car Audio Security Global Telmetrics were able to offer a one of a kind track experience alongside either Paul Bailey or Ross Wylie. 
Alongside some of the most expensive and more revered cars in the world Global Telemetrics co-owners James Mather and Paul Bailey filled garage 21 and 22 with some of the beautiful cars in their collection, a trip to either our garage or marquee allowed for visitors to catch a glimpse of the McLaren MP4-12C Can Am 1 of only 3 in the world this one being chassis number 1. This very McLaren is the same McLaren Ross Wylie and SB Race Engineering raced to victory to win the GTO Class Championship in October of 2021. 
Not only were guests able to see this car up close but a lucky few clients were able to take a ride with Ross around the famous Donington Park circuit. Our friends at Mobile Systems declared 'A truly amazing first time experience being driven on the Donington track in a McLaren by professional driver Ross Wylie. Thanks to all at Global Telemetrics for the opportunity'.

Alongside the McLaren, at the Global Telemetrics garage could also be found a Ferrari LaFerrari, Ferrari Enzo, 2 Porsche GT3 RSs and a Lamborghini Aventador S. The Enzo and the LaFerrari both being featured in the parade laps around the track and the GT3 RSs being driven around the track for race experiences for guests.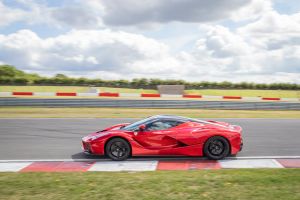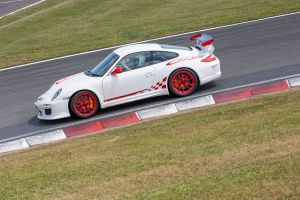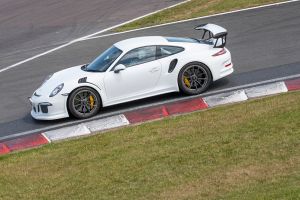 Our friends at SC Audio Yorkshire, Jamie and Shane Chambers, also experienced a couple of laps around the track in the LaFerrari with Jamie remarking 'It was great to be invited to the Supercar Driver event by Global Telemetrics. There was a great level of hospitality for everyone there. The highlight of the day was easily getting an amazing pittlane experience with a few flying laps in the LaFerrari. All in all a great day with great people and an amazing experience, I can't wait for the next one!'
At the Global Telemetrics marquee, Equilibrium Oakham and Equilibrium Stamford were on hand to provide complimentary Clarins skin treatments as well as a chance to meet some of our wonderful staff who were on hand to provide information about our services and products.
At Global Telemetrics we really appreciate our staff and the hard work and dedication they put into their roles which allow us to grow as a business and continue to provide world class award winning services to our clients and customers.
The SCD Secret Meet therefore gave us the opportunity to to show some of our appreciation, with the opportunity for staff if they wished to have some laps around the track with Paul Bailey. 
Stolen Vehicle Recovery Manager Andrew loved being part of the event, declaring it as 'A great day spending time with customers and dealers with an unforgettable experience going round Donington with Paul Bailey at the wheel, loved it! and the drive home in the GT3 RS wasn't bad either!' 
At the end of the event the Porsche's needed returning back to Telemetrics House, Andrew and Josie from our Sales team were on hand to drive from Donington back to our home in Coalville, Leicestershire in what is sure to have been an unforgettable experience. 
Our Social Media team were also on hand to cover the day and upload content which can be found across all of our social media channels with much more to come. Alicia, also from our Stolen Vehicle team helping to capture content for the day stated 'It was a huge privilege and experience to spend the day visiting the garages and marques of all those in attendance. Seeing the cars around the track, as well as getting to interact and meet with some of our clients and guests was an unforgettable experience. Having a lap with our co-owner Paul Bailey at the wheel topped off a fantastic day all round.'
The event itself featured an array of some of the most unique and rare cars around the world as well as some F1 classics. Stolen Vehicle Recovery Team member Mike remarked 'To see the McLaren / Honda Marlboro red and white F1 car up close was a joy to behold, the same car that I used to have a toy version of as a child. To see that pass by in the pit lane and to hear and experience the roar of it around the famous Donington track, that I have spent so many happy hours at across the years, was truly an unforgettable moment"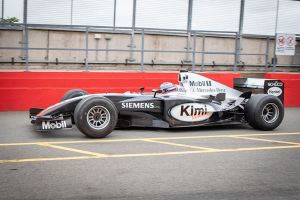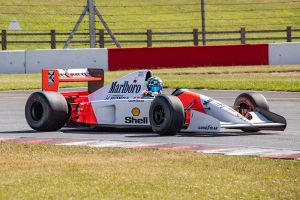 The mid afternoon Supercar owner parade was truly a sight to behold, from the Aston Martin Vulcan, Bugatti Veyron, Ferrari's, Lamborginihis and Porsche plus many others it was a who's who of the supercar elite brands and models. 
This year, it was the Ferrari that took centre stage, the event this year celebrated the anniversary of the Ferrari F40 as well as the biggest gathering of the big 5 in the world. The big 5 consists of 288 GTO, F40, F50, Enzo and LaFerrari. Truly a breathtaking experience to see so many Ferraris up close and together in one place. 
Everyone here at Global Telemetrics is proud and honoured to have been part of this truly great event and we look forward to being part of it for many years to come. Thank you to Supercar Driver, Pirelli, JBR Capital and DTO Motorsport for making it such a memorable day. 
It's not only super and hyper cars Global Telemetrics can protect, we offer a range of tracking systems and immobilisers for cars of all shapes, sizes and values as well as plant and fleet vehicles. With thefts on the rise through the UK and recovery rates for us alone being only just short of 2021's total at the halfway point of 2022 there is never a better time to invest in security for your asset with one of our SmarTrack or Shadow products. 
To protect your vehicle further information on the products we provide can be found on our website https://smartrack.uk.net or by giving us a call on: 0800 279 6401 or via sales@smartrack.uk.net
You can also find us on social media at:
Twitter: @globaltele
Facebook: www.facebook.com/globaltelemetrics
Instagram: @globaltelemetrics
Tiktok: @globaltelemetrics
Youtube: https://www.youtube.com/globaltelemetrics
LinkedIn: https://www.linkedin.com/company/global-telemetrics
Global Telemetrics are proud to announce that during Quarter 3 of 2023 we have recovered £8m worth of vehicles which now puts us on a total of £29.8m for 2023 as a whole.
Q3 for 2023 see's a rise of 300k on last year's Q3 and £3.3m ahead of 2022's by Q3 total recovered value of £26.5m.
During September, Global Telemetrics were responsible for the recovery of £3.1m worth of vehicles.
Stolen cars worth £3.2 million pounds were recovered by Global Telemetrics in August 2023.