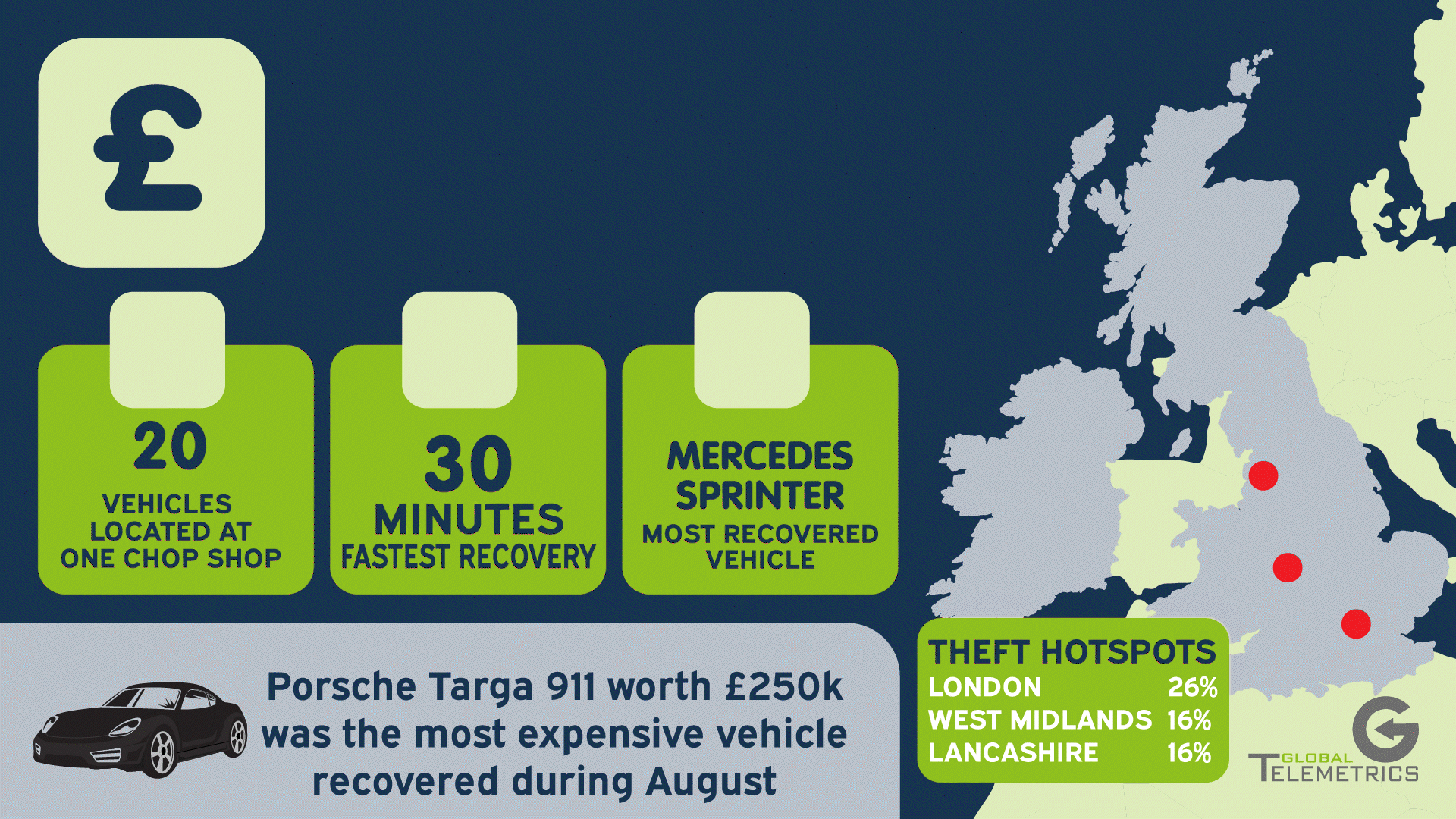 As expected, after a slight dip during July, following the trend of previous years August has seen the recovery figures heat up. During August, Global Telemetrics were responsible for the recovery of £3.2m worth of vehicles. This is a £400k increase compared to August 2022 and a 68% increase from August 2021. Global Telmetrics have recovered £26.5m worth of vehicles during 2023 so far. 
August Facts and Figures
In a first since we have started our recovery highlights blogs, during August a different manufacturer has taken the top spot for most recovered vehicle. During August, Mercedes took the top spot with 37% of all vehicles recovered being a model of the brand. The Mercedes Sprinter being the most recovered vehicle for the month. Usual top spot, the Jaguar Land Rover, remained close behind with 21% of all vehicles recovered being a JLR vehicle. 
Other vehicles recovered during August included: Peugeot Boxer, Ifor Williams Trailers, Volkswagen Golf R, Lexus ES 300H, Mototrek Leisure Treka KIA Niro, Porsche 911 Targa and an Audi RS 6. 
August's Fastest Recovery / Most Interesting Recovery
This month our fastest recovery was also our most interesting recovery due to what followed when our customers' Range Rover Sport was located. Global Telemetrics works alongside a number of finance companies to protect their assets. During late August we got notification from one of these companies that one of their customers' vehicles had been stolen. Our Security Liaison Officer Alicia jumped straight onto the report and passed the location of the stolen Range Rover on to our dedicated Auto-Crime Investigation Repatriations Team. They, alongside the police, sped to the location. Arriving at the scene it was soon apparent that they were at the site of a huge chop shop. Thankfully for our customer their vehicle was still 'whole' alongside 7 other stolen vehicles which were a mix of Audi, JLR and BMW models. Also found were 12 plus chopped vehicles. It took just 30 minutes from confirmation of the theft to recovery of at least 20 stolen vehicles.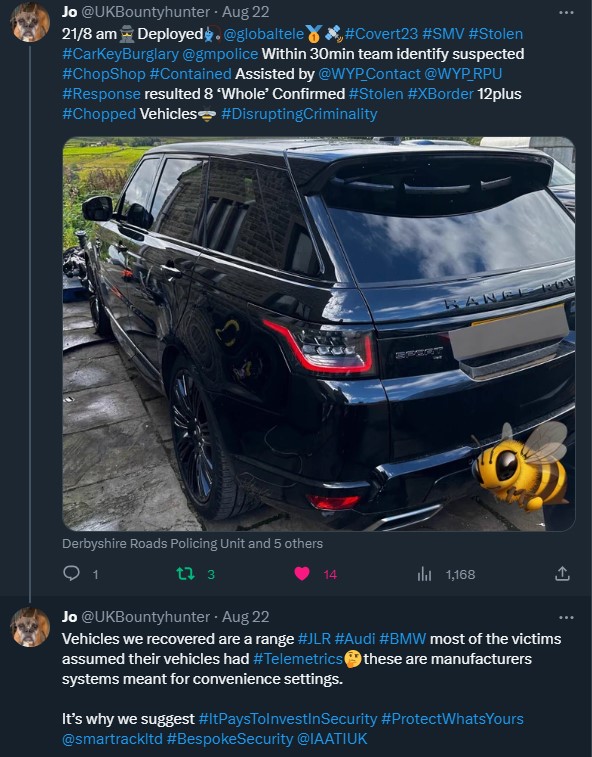 Hotspots
London once again leads the pack when it comes to the location where vehicles were most stolen during August with 26% of all recoveries coming from a London Borough of which Enfield was the most popular this month. In joint second place this month were Lancashire and the West Midlands each having a 16% share of all recovered vehicles for the month. 
Looking Forward
This month has seen a number of van thefts around the country with 27% of all recovered vehicles recovered in August being a van or trailer. As this seems to be on the rise we will be raising awareness through our social media channels and blog. For a lot of our customers van theft not only is losing the vehicle but a potential to lose their livelihoods with most vans being used for working purposes. 
On our SmarTrack platforms, our Back to Basics campaign continues to highlight simple tips and tricks to protect your vehicle from theft. 
Global Telemetrics are proud to announce that during Quarter 3 of 2023 we have recovered £8m worth of vehicles which now puts us on a total of £29.8m for 2023 as a whole.
Q3 for 2023 see's a rise of 300k on last year's Q3 and £3.3m ahead of 2022's by Q3 total recovered value of £26.5m.
During September, Global Telemetrics were responsible for the recovery of £3.1m worth of vehicles.
Stolen cars worth £3.2 million pounds were recovered by Global Telemetrics in August 2023.