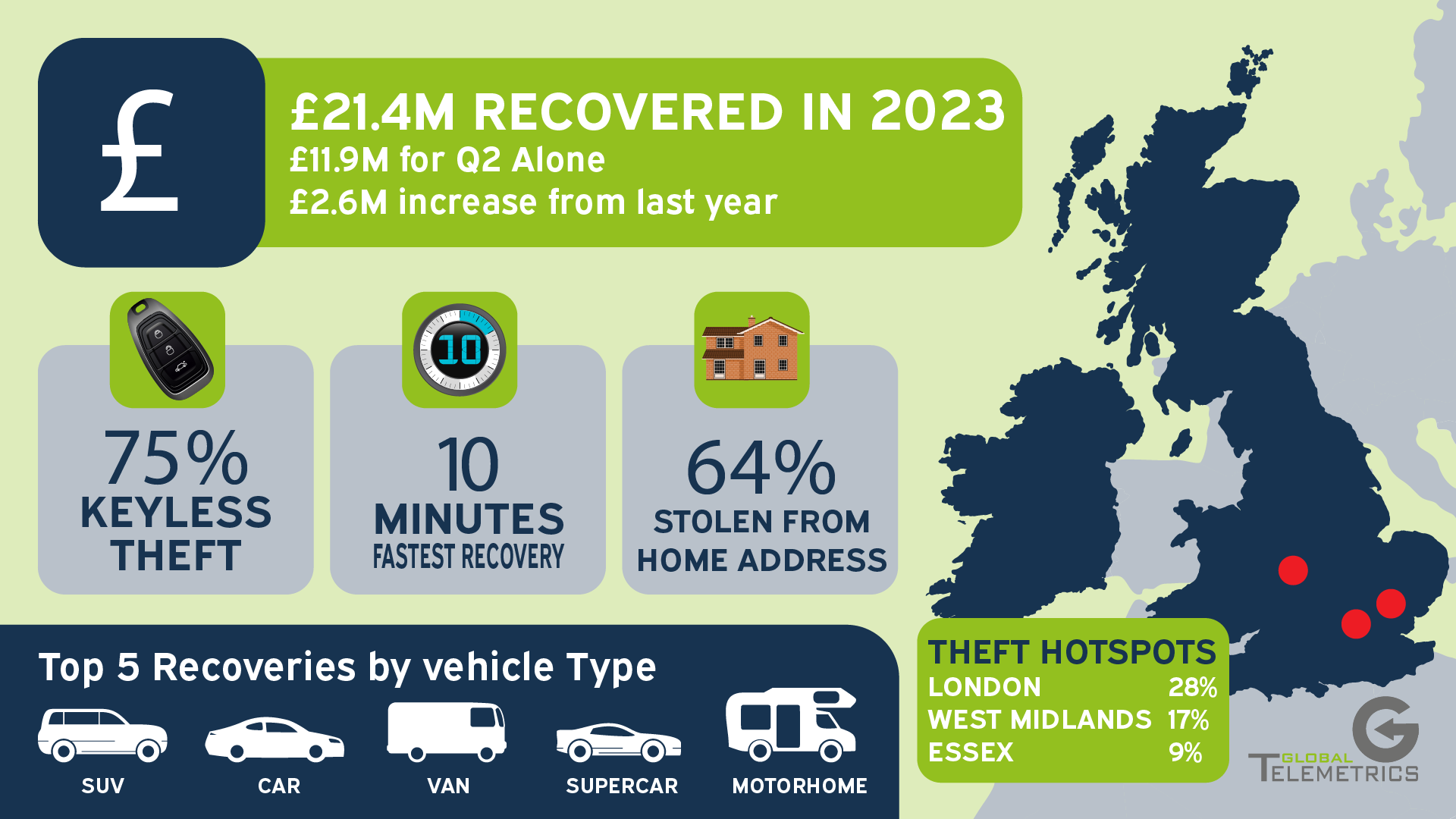 Global Telemetrics are proud to announce that during Quarter 2 of 2023 we have recovered £11.9m worth of vehicles. At the halfway point of the year Global Telemetrics have been responsible for the recovery of £21.4m worth of vehicles. 
This is a £2.6m increase in value from the halfway point of 2022, meaning we are still on target for our projected recovery total for 2023 of £40m. 
Q2 The facts and figures 
METHODS AND LOCATIONS IN Q2 2023
During 2023, Global Telemetrics have been monitoring how vehicles are stolen from the vehicles we have recovered. As reported throughout the year so far by the press and a constant problem over the last couple of years, relay and keyless theft remains a huge problem. So far in 2023, 75% of our recovered vehicles have all been stolen using a method of relay device or key cloning. 
Global Telemetrics currently has a couple of solutions to this issue: 
Our S5 devices (that have Bluetooth Detection Cards) will be provided with a faraday pouch to put both the keys and cards into. This stops the key signal being able to be relayed. 

Our SmarTrack S5+ iMob system (that comes with Bluetooth Detection Cards) can be switched off. Once switched off or out of range, the tracking device will immobilise the vehicle. This means that even if the keys have been replicated in a relay attack, the vehicle will still not start. In 2022, Global Telemetrics released a theft reconstruction which shows the relay method in action. This can be viewed below:
Theft Location 
Data gathered from recovered vehicles shows that a customer's home address is still the most likely location for a vehicle to be stolen. During the first half of 2023 64% of all vehicles recovered by Global Telemetrics were stolen at the customer's home address. When you combine this with the amount of relay thefts it further emphasises the requirement for car owners to do everything they can to protect their vehicle by 'Backing the basics' and making sure keys are far away from the door in faraday pouches and Driver Detection Cards etc are not left within the vehicle when parked up.
Hotspots
When it comes to locations around the UK where vehicles are stolen, London leads the way with 28% of all vehicles recovered so far in 2023 being from a London Borough, with Enfield being the borough with the most vehicles stolen so far. The West Midlands come in second with 17% and Essex with 9% is third. 
Fastest recovery
During Quarter 2 our quickest recovery was in 10 minutes which happened during June, more information about this theft can be found in our June recovery highlights here.
Vehicle Types Recovered
SUV's dominate the types of vehicle recovered so far this year with 61% of all vehicles recovered being an SUV. Cars 15%, Vans 9%, Supercars 6% and Motorhomes 2% round off the top 5 types of vehicle recovered so far this year. 
Looking Forward 
With the school holidays here and many people heading off on holiday abroad and at home, it is inevitable that we will see a rise in vehicle theft. If you are heading abroad be careful about advertising you are away whilst your vehicles are at home alone. Motorhomes and caravan thefts are likely to increase due to the increase in demand for the summer months as well as the increase of vehicles out of storage. In 2022, Fiat Ducato based motorhomes were our 3rd most stolen type of vehicle for the year. Global Telemetrics highlighted the dangers of motorhome theft in our video below
Stolen cars worth £3.2 million pounds were recovered by Global Telemetrics in August 2023.
Quarter 3 is now well underway and summer is upon us. During July, Global Telemetrics were responsible for the recovery of £1.8m worth of vehicles. This is on par with the last two July's which have seen a slight dip during the summer months before rising towards the end of the year.
The SCD Secret Meet 2023 took place on the 11th July, in this blog we look back at the event.