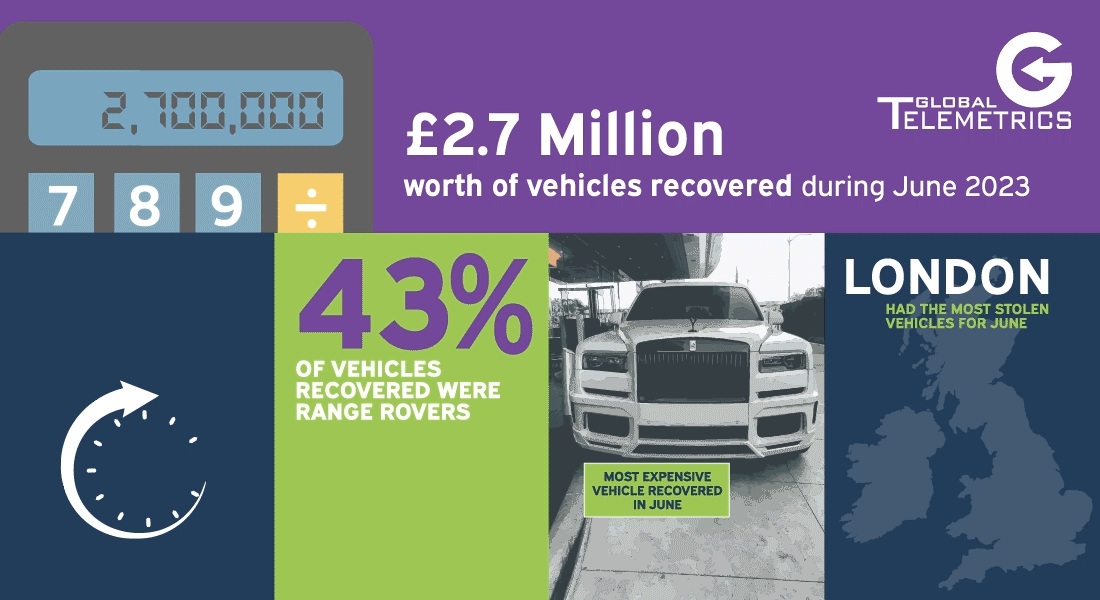 As we now enter August we look back to June where Global Telemetrics monitored devices were responsible for the recovery of £2.7m worth of vehicles. This is on a par with June 2022. At the halfway point of the year, Global Telemetrics have recovered £21.5m worth of vehicles; this is £2.8m more than the halfway point of 2022. Global Telemetrics predicts a projected recovery total in excess of £40m by year's end. 
Junes Facts and Figures 
In line with every month so far on our recovery highlights blogs, JLR takes centre stage when it comes to vehicles recovered with 43% of all vehicles recovered during June being a model of Jaguar Land Rover. The Range Rover Sport was this month's vehicle of choice for thieves representing 29% of all vehicles recovered alone.
Other vehicles recovered this month included: a BMW M4, An Audi RS4, a Ford Ranger Wildtrak, A Ford Transit based Motorhome, Citroen Berlingo, a Toyota Rav 4, Jaguar F-Pace and Mercedes X350 amongst others. We have also seen a continuing theme across the months of high value cars being stolen and recovered and this month was no different with the recoveries of a Lamborghini Aventador and Rolls Royce Cullinan. 
June's Fastest Recovery
For this month our fastest recovery came within 10 minutes of our Repatriations Team being deployed. When our customer had an alert, our Secure Control Centre contacted them immediately. Although the customer didn't at this time answer, our Stolen Vehicle Recovery Team member Chris, recognising a pattern that we see all too often in thefts, asked our Repatriations Team to look into it. Shortly after being deployed, the customer confirmed that the motorhome had indeed been stolen and the Repatriations Team and the Police sped to the location provided. 10 minutes after being deployed, Nottinghamshire police intercepted the vehicle on false plates and made 1 arrest.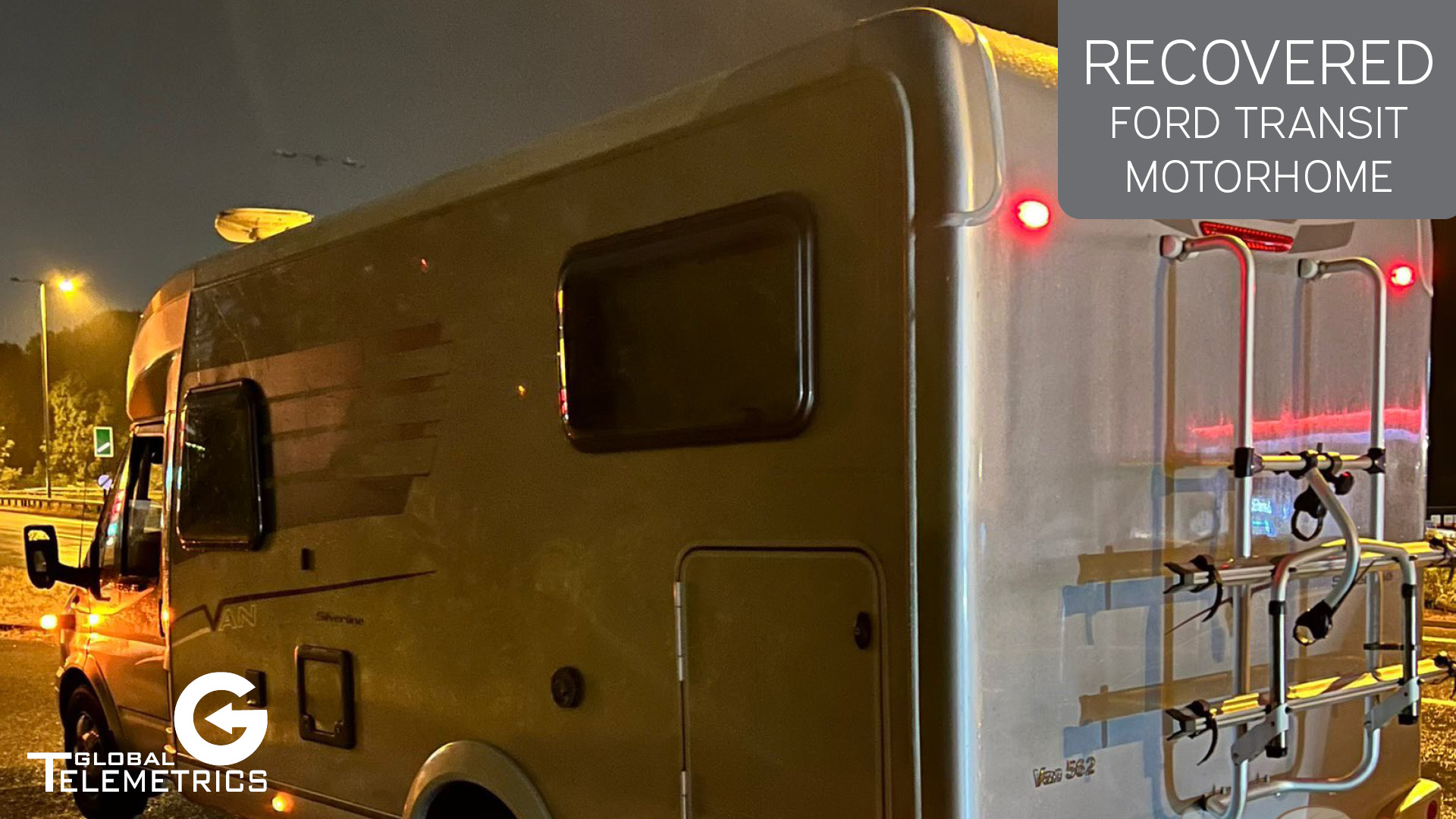 June's Most Interesting Recovery
Two of the most common comments we see online aimed at Stolen Vehicle Recovery and the police regarding vehicle theft are: 'What if it's jammed?' and 'That will be at the port ready to be shipped and never seen again' 
When it came to the recovery of a Rolls Royce Cullinan, Global Telemetrics, our Repatriations Team and the police proved that even with these conditions in place it's still possible to recover a stolen car. In the early hours of the morning during late June, our customer called us to inform us that their vehicle had been stolen. Looking at our system it was clear that the device inside the Cullinan was being blocked, however our Stolen Vehicle Team and Repatriations Agents love a challenge and this didn't deter them. Using their expertise and experience they set to work on gaining other methods of communication to the device which we won't expose in our blog. 
Using intelligence gathered and the info provided by the alternative methods of contacting the device, the police and our Repatriations Team learnt that the vehicle had travelled to Tilbury Docks on false plates and was now sitting in a unit waiting to be shipped to Dubai. A little after 24 hours after originally being stolen, the police alongside our repatriations team gained entry to the unit and recovered the vehicle. Even though it had been 'jammed' and the vehicle hidden in a unit, waiting to be shipped, thanks to the work of our Stolen Vehicle Recovery Team, our Repatriations Team and Essex Police the vehicle was reunited with its owner. 
Hotspots
After a brief share of top spot with the West Midlands throughout the month of May, London came back with a bang and sits firmly as the location for the most recoveries for the month of June with 38% of all recoveries being in London. West Midlands remained in second spot with 12% whilst Essex took the third place with 8%. 
Some newcomers to our hotspot list also appeared this month with Kettering, North Yorkshire, Maidenhead, Lincoln, Nottingham and Southend all making 2023 debut appearances to the table no location wants to be a part of. 
Looking Forward 
As followers of our social media channels will know at the beginning of July Global Telemetrics were Premier Partners at the SCD Secret Meet 2023. The event was a fantastic showcase of super and hyper cars from around the world and we will have more content focusing on our time there in the following weeks.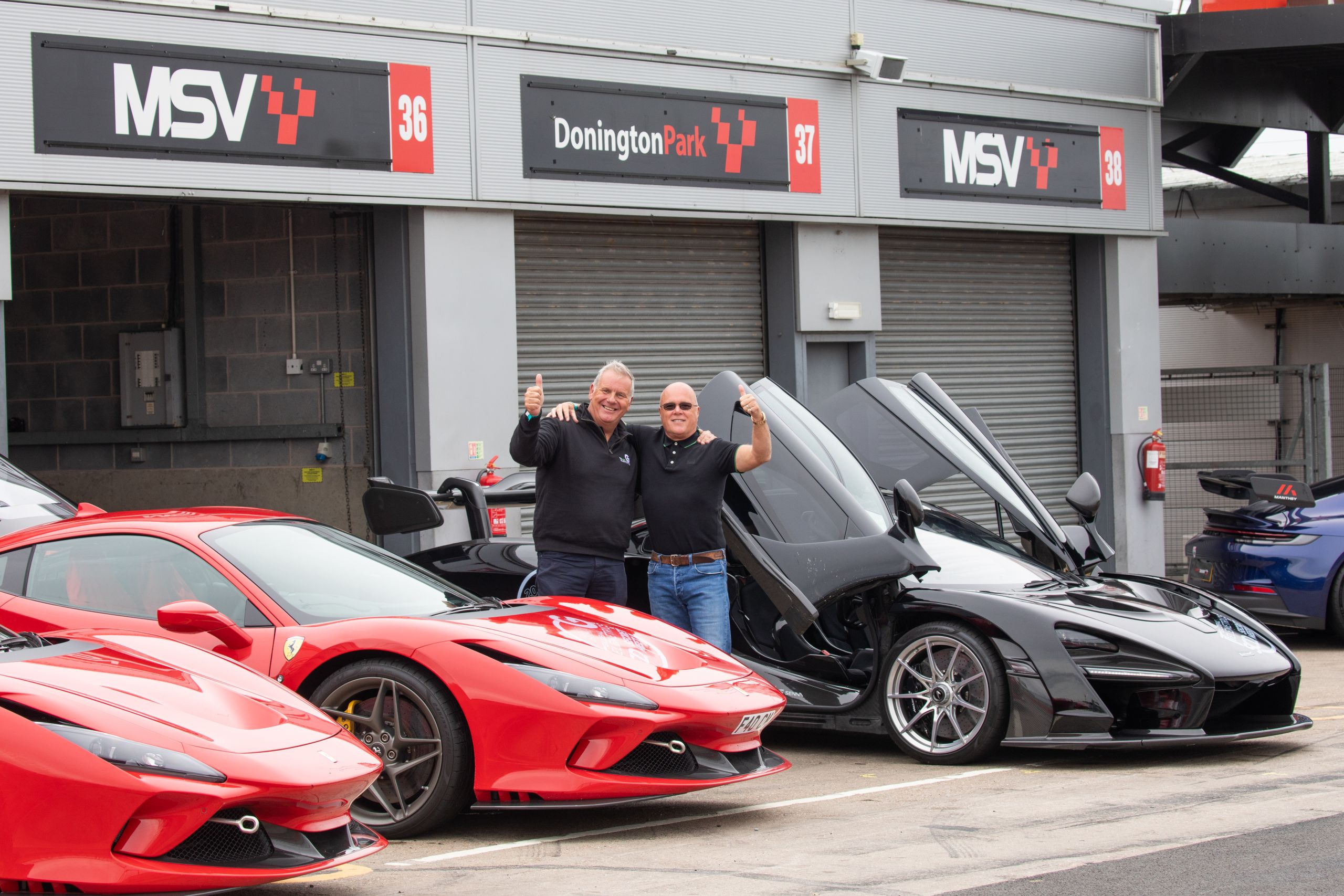 Image thanks to Coopers Dimension (coopersdimension.com)
Stolen cars worth £3.2 million pounds were recovered by Global Telemetrics in August 2023.
Quarter 3 is now well underway and summer is upon us. During July, Global Telemetrics were responsible for the recovery of £1.8m worth of vehicles. This is on par with the last two July's which have seen a slight dip during the summer months before rising towards the end of the year.
The SCD Secret Meet 2023 took place on the 11th July, in this blog we look back at the event.