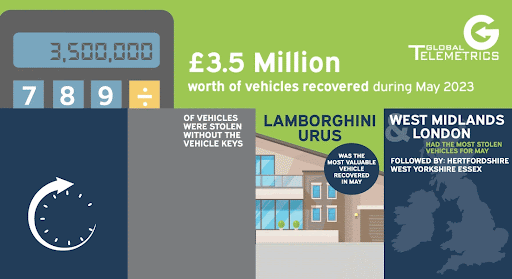 This month, Global Telemetrics monitored devices were responsible for the recovery of £3.5m worth of vehicles. This is a £600k increase from May 2022 and means that figures for recoveries in 2023 so far currently stand at £18.8m. This is £2.7m higher than the total this time last year, and we remain on course to hit a projected recovery total of £40m. 
Mays Facts and Figures
In what could be redubbed the JLR section, once again, Jaguar Land Rover dominates our recovered vehicles list for May, making up for 46% of all recovered vehicles this month, with the Range Rover Sport and Vogue being tied for the most popular model this month. 
Other vehicles recovered this month included Peugeot Boxers, 3 different models of BMWs in the M5, 225 and 430i, models of Audi including the S3 and A5, Mercedes ML350 and S350, a Ford Kuga, a Swift Celebration, a Fiat Ducato, a Vauxhall Combo, a Bobcat E17 and a Lamborghini Urus. 
As you can see from the list above, vehicles of all types, shapes, sizes and costs can be stolen. Whatever vehicle you own, Global Telemetrics has the right SmarTrack device for your needs. More information on all of our devices can be found here
May's Fastest Recovery
Our fastest recovery came on the last hour of the last day of the month. Shortly after 11:30pm, our customer's Land Rover Defender 110 was stolen from their home address. On calling our Secure Control Centre, the thieves had appeared to have deployed a jammer on the device. Some quick thinking from our team, using their expertise and skills to bypass this, meant that a location of the moving vehicle was quickly ascertained. The location was passed to our Repatriations Team who, in contact with the police, were then able to head to the location and intercept the vehicle quickly and safely, just 11 minutes after being first reported. 
May's Most Interesting Recoveries
In the last couple of months, Global Telemetrics has noticed an increasing number in the theft of Supercars and other high value cars. This month, a Global Telemetrics customer had their Lamborghini Urus and an untracked van stolen during a burglary. Thankfully the 23-plate Urus was fitted with one of our SmarTrack devices. 40 minutes after being reported to our Secure Control Centre our Repatriations Team and the police had secured and recovered the vehicle. 
During April's Recovery Highlights we featured the theft of another Supercar, a Ferrari 488 Pista which was stolen by an armed gang. Footage from the theft can be seen below: 
Hotspots
For the first time since tracking hotspots for our blogs, London is joined by another region at the top of the hotspot list. Both West Midlands and London made up for 20% each of all vehicles recovered during May. Also entering the top 3 locations for the first time this month is Hertfordshire, which made up for 13% of all recoveries in May. The area had previously only had one vehicle with a Global Telemetrics device stolen in 2023. Recently local news outlets for Hertfordshire have reported a 150 per rise in car thefts around the county, more information can be found here https://www.hertsad.co.uk/news/23484475.stevenage-vehicle-thefts-increase-150-per-cent/ 
Looking Forward
As mentioned in previous blogs we will once again be Premier Partner for the Supercar Driver Secret Meet at the beginning of July. This is an event we are very proud and excited to be a continued part of. Further information can be found across the Supercar Driver social media channels, and on their website. Follow our socials to see what we get up to on the day.
On June 24th, a collective of Global Telemetrics team members completed the Tough Mudder run for charity – a 15km course with 30 obstacles to challenge all those that take part. Our colleagues raised £640 in support of Rainbows Hospice for Children and Young People in Loughborough. More information about the amazing work Rainbows do can be found here https://www.rainbows.co.uk/ and you can still donate to our team through their just giving link which can be found here 
Stolen cars worth £3.2 million pounds were recovered by Global Telemetrics in August 2023.
Quarter 3 is now well underway and summer is upon us. During July, Global Telemetrics were responsible for the recovery of £1.8m worth of vehicles. This is on par with the last two July's which have seen a slight dip during the summer months before rising towards the end of the year.
The SCD Secret Meet 2023 took place on the 11th July, in this blog we look back at the event.