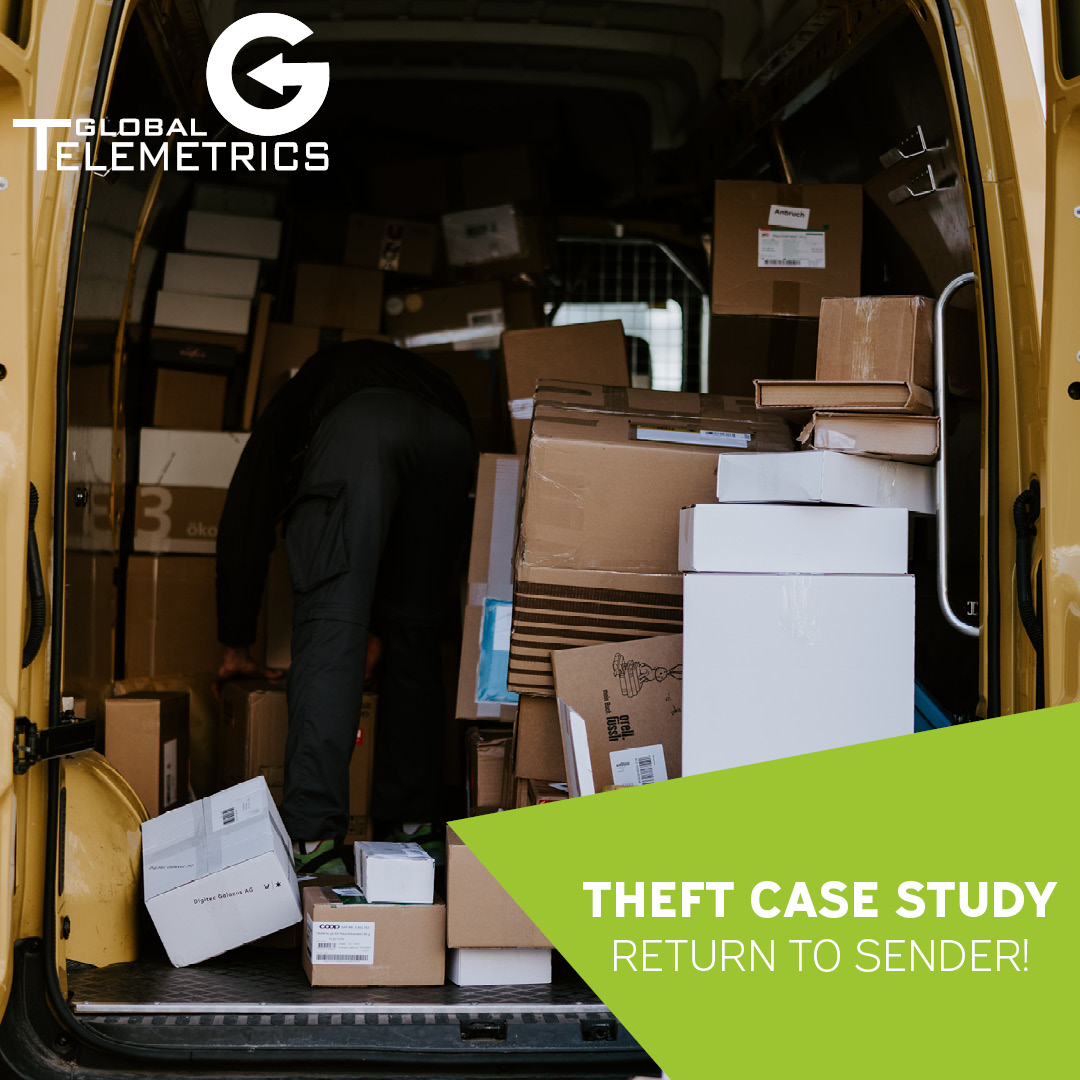 Return to sender!
For our fleet customers a stolen vehicle means that their livelihood is at risk. This was the case for our customer in the middle of October when one of their delivery drivers had their Peugeot Expert van stolen whilst they were working. They immediately reported it to their company and they contacted the Global Telemetrics Secure Control Centre with crime reference number ready. 
On their fleet, this customer had our SmarTrack Trident device, this device allows for optional remote immobilisation, which this customer had opted for. This meant that through the GTE Track app provided to all of our customers, they could not only see where the vehicle had been taken, they could immobilise the vehicle so that it could not be taken any further. 
With the crime reference number taken, Andrew at our Secure Control Centre immediately informed our Accredited Auto-Crime Investigation Team. 
In the event of a theft of an asset the following process will occur: 
The customer will report their vehicle stolen on our dedicated theft line. Global Telemetrics will ring the customer to make them aware of one of the alerts that our system generates (vehicle moving without ignition, battery disconnected, Driver Detection not present)

If not already obtained, customer will be advised to ring the police and obtain a crime reference number

Global Telemetrics work with our agents who work alongside the police to secure your asset. Upon a receipt of crime reference number, agents will attend the location of your vehicle

As a safety precaution, upon notifying Global Telemetrics of a theft, access to your tracking data is temporarily disabled. We will keep the owner informed of any updates so they can rest assured everything is in hand. Global Telemetrics will not provide customers with an exact location of the asset to avoid an unintentional endangerment to life

When the vehicle is secured, Global Telemetrics will call the customer to confirm that the vehicle is safe

The police will arrange with the customer collection of the vehicle either from its location or after recovery and forensic examination
With location in hand our Repatriations Team were able to successfully secure the vehicle within 8 minutes of it being stolen. The quick work of Andrew and our Repatriations Team alongside the features within the GTE Track app meant this situation was prevented from being a lot worse for our customer than it could have been. 
Parcel theft is currently on the rise globally, with a YouGov survey reporting that 32% of Brits have had parcels stolen. It is often seen that professional thieves follow delivery driver vans and in most cases then steal parcels minutes after they have been dropped off. More details of which can be found here https://retailtechinnovationhub.com/home/2022/10/17/penn-elcom-and-scurri-report-uk-parcel-theft-hits-all-time-high
Global Telemetrics is witnessing that due to the high pressure environment and quick nature of the job itself, some delivery drivers are taking risks with their security which is leading to quick opportunities for thieves. 
We have seen a rise in situations where unbeknown to the driver, they are being followed or watched, as they get to a delivery destination they will hop out of their vehicle and in some cases not only not lock their doors but leave the engine running. At this point the thieves jump in and take the vehicle. 
When this happens the chain affected is significant, from the delivery driver who has to explain to his company what happened, to the company who potentially loses a van as well as goods at a significant cost, to the customer who doesn't get the goods they have ordered! 
To protect your livelihood and see how our SmarTrack devices can help protect you fleet visit us at https://smartrack.uk.net or give us a call on: 0800 279 6401 or email via: sales@smartrack.uk.net
You can also find all of our social media channels here: https://linktr.ee/globaltelemetrics
This February, Global Telemetrics recovered £2.5m worth of vehicles. This is £500k more than February of 2022, and £800k more than February of 2021, highlighting the continuing rising trend in vehicle theft across the UK.
We remain on course to hit our projected recovery total of over £40m worth of vehicles by year-end 2023, compared with £38.6m worth of vehicles recovered in 2022.
Staycations are becoming ever-popular, and with spring around the corner, motorhomes and caravans across the country will soon be out on the roads again. Whilst these home-from-homes continue to gain demand, it will unfortunately lead to a likely rise in stolen vehicles.
In 2022, Global Telemetrics were responsible for the recovery of £38.6m worth of vehicles. Fiat Ducato motorhomes were the 3rd highest recovered vehicle of the year, making up for over £1m of recoveries. Other motorhome and Caravan brands such as Auto-Trail, Bailey and Adria also appeared on the list, accounting for almost £800k of recoveries.
Global Telemetrics has had a kick start to the year, with £3.4m worth of vehicles recovered during January alone. 
At this rate, we are projected to recover over £40m worth of vehicles by year-end 2023, compared with the £38.6m worth of vehicles we recovered in 2022.