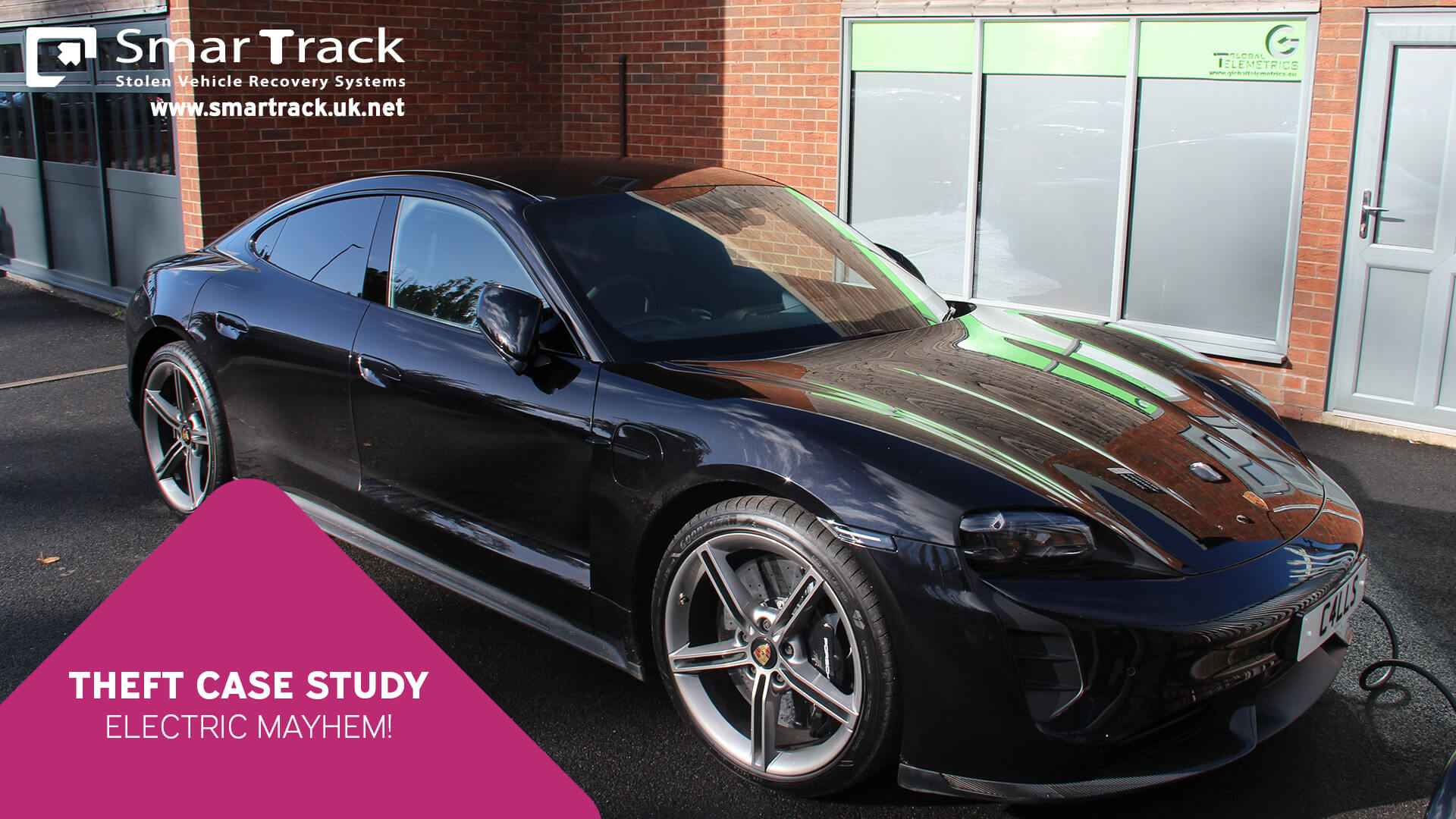 Comedic timing they say is an artform, how about theft prediction timing? 
It's Monday afternoon and talk at Global Telemetrics Secure Control Centre turns to the car owned by one of our shareholders Paul Bailey. Paul has a beautiful collection of cars and we as team members at Global Telemetrics are very lucky to get to see some of his collection on days when he is at the office. 
On this day the car in question was a Porsche Taycan Turbo S and as a team we decided we should capture some pictures of it and highlight how electric cars are being stolen. Tuesday afternoon, the pictures of this wonderful machine were posted and later that night, low and behold, our customer's BMW i4 was stolen during the night.
The BMW i4 has one of our SmarTrack S5 devices fitted meaning that it has our Bluetooth Driver Detection Cards, if the vehicle is moved without one of the cards present it generates an alert to our Secure Control Centre. This was the case this evening as an alert came through to our system shortly before 4 am. 
Jodie, who was covering her first night shift, swiftly sprung into action to call our customer. Upon waking him up, she shared with him the bad news. The customer looking out of his window confirmed that the vehicle indeed was no longer on his drive and had been stolen. Jodie as process dictates asked the customer to contact the police and obtain a crime reference number. 
In the event of a theft of an asset the following process will occur: 
The customer will report their vehicle stolen on our dedicated theft line. Global Telemetrics will ring the customer to make them aware of one of the alerts that our system generates (vehicle moving without ignition, battery disconnected, Driver Detection not present)

If not already obtained, customer will be advised to ring the police and obtain a crime reference number

Global Telemetrics work with our agents who work alongside the police to secure your asset. Upon a receipt of crime reference number, agents will attend the location of your vehicle

As a safety precaution, upon notifying Global Telemetrics of a theft, access to your tracking data is temporarily disabled. We will keep the owner informed of any updates so they can rest assured everything is in hand. Global Telemetrics will not provide customers with an exact location of the asset to avoid an unintentional endangerment to life

When the vehicle is secured, Global Telemetrics will call the customer to confirm that the vehicle is safe

The police will arrange with the customer collection of the vehicle either from its location or after recovery and forensic examination 
In a lot of thefts, thieves will drive the car somewhere not too far away and park the vehicle, they will then spend some time looking in the car to see if they can spot a tracker. If they can't, they will leave the vehicle for a day or so to see if anyone comes to recover it. After keeping a beady eye on it for a few days, if no one comes to collect it, they will transport it to their own hidden chop shop, look to make a quick buck on the black market or even ship it abroad never to be seen again.  
With the crime reference number received, Jodie informed our Accredited Auto-Crime Investigations Repatriations Team of the location and they headed to secure the vehicle.
Arriving at the vehicle, sadly the thieves had a good look for a tracking device causing a fair bit of mayhem and damage in the process. However, the tracker expertly installed and hidden away could not be found! Just under 2 hours after first being reported the delighted owner was able to attend the location and recover the vehicle back home. 
A memorable evening for Jodie on her first full night shift as it's also her first full solo managed recovery. 
Intel from our team and the police informs us that electric cars as well as Kia's, Hyundai and Ford Rangers are currently highly prized for thieves around the country. As the longer nights approach there is no better time to secure and protect your car with one of our devices. 
Visit our website https://smartrack.uk.net or give us a call on: 0800 279 6401 or email via: sales@smartrack.uk.net
You can also find all of our social media channels here: https://linktr.ee/globaltelemetrics 
Stolen cars worth £3.2 million pounds were recovered by Global Telemetrics in August 2023.
Quarter 3 is now well underway and summer is upon us. During July, Global Telemetrics were responsible for the recovery of £1.8m worth of vehicles. This is on par with the last two July's which have seen a slight dip during the summer months before rising towards the end of the year.
The SCD Secret Meet 2023 took place on the 11th July, in this blog we look back at the event.