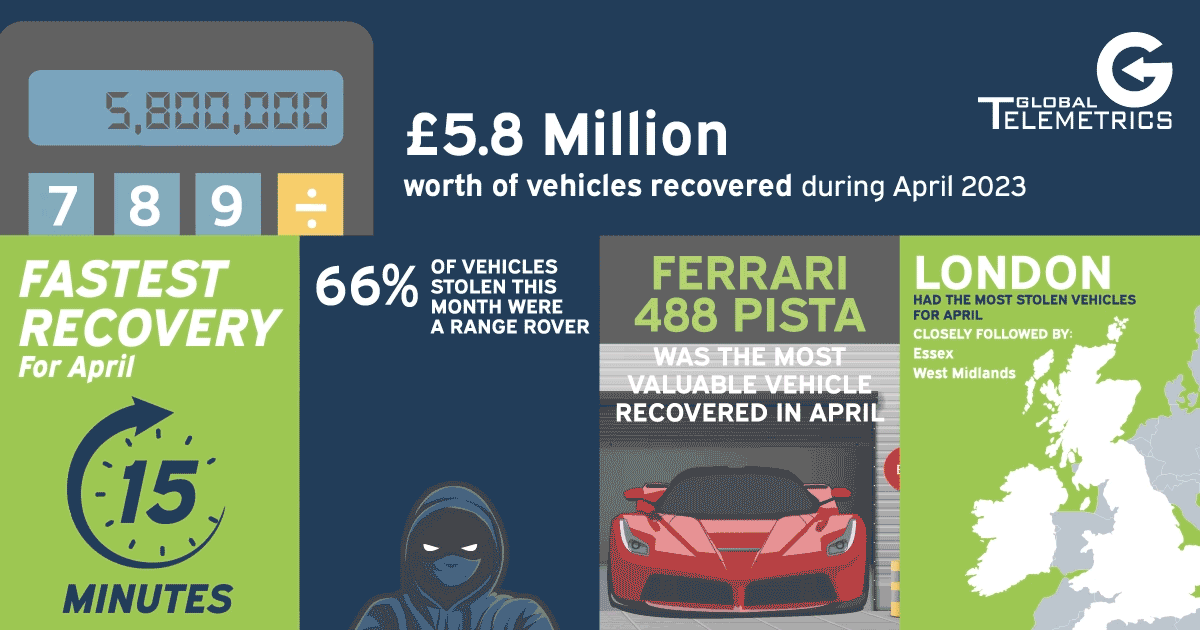 Now firmly into Q2, April has seen a record equalling month for recoveries for Global Telemetrics. Throughout April, Global Telemetrics monitored devices were responsible for the recovery of £5.8m worth of vehicles. This total equals the record set in March 2022 of the same total. April saw a £2.2m increase from March 2023. 
April Facts and Figures
In similar fashion to all of our recovery highlights, Jaguar Land Rover once again dominates the recovered vehicles list, 66% of all recovered vehicles during April were a model of Land Rover or Range Rover. This is a 4% increase on March's 62%. The Range Rover Sport at 29% of all recoveries this month was the vehicle of choice for thieves around the country. 
Other notable vehicles recovered this month included: A Ferrari GTC Lusso which lead to the discovery of other stolen supercars, A Ferrari 488 Pista stolen from a parking garage in London, Lexus RX 450H which are now joint 3rd for our most recovered vehicle in 2023, a Peugeot Boxer, a Porsche 911, a Mercedes G 350, a Bentley Bentayga, an Avant M528 and some Mercedes Sprinter vans. 
April's Fastest Recovery
At the start of April our customer's Land Rover Discovery was stolen from our customers home address just before midnight. After confirming that the vehicle was stolen our Repatriations Team immediately sprung into action. Using the data from the SmarTrack S5 device installed the team were able to locate and secure the vehicle in 15 minutes. 
More information on all of our devices can be found here
Aprils Most Interesting Recoveries
As a whole April was an interesting month for recoveries due to the amount of high value cars stolen and recovered during the month. At the beginning of the month, our customer had their Ferrari GTC4 Lusso V12 stolen. On initial checks it appeared that the thieves had attempted to jam and hide the vehicle. Our Stolen Vehicle Recovery Team however has a wealth of knowledge and experience when it comes to thefts such as this one and immediately started to use all the tools available to us to triangulate a location via SIM data. After some searching from our expert Repatriations Team, a unit and container were located, once warrants were obtained by the police our customer's Ferrari was located alongside 4 other supercars including 2 Aston Martins.
Ferrari's were again the hot topic at the end of April as our customer had their Ferrari 488 Pista stolen from a car park in London. Our Repatriations Team armed with the location in hand headed with the police to the location and secured the vehicle. For this theft our customer provided us with CCTV footage of the vehicle being stolen with another Ferrari that does not have a SmarTrack device installed. Footage from the theft can be seen below: 
Hotspots
London continues to be the most high-risk location, with 34% of recoveries for April being stolen from the London area; this is a 11% increase on March's total. In second place Essex saw a 12% rise in recoveries to 15% with third place being the West Midlands with 12% of all recoveries. 
Looking Forward
Global Telemetrics are looking forward to and in the planning stages for Q3, where we will once again be a Premier Partner for the Supercar Driver Secret Meet. This is an event we are very proud and excited to be a continued part of. Further information can be found across the Supercar Driver social media channels, and on their website. Global Telemetrics plans to bring lots of content to our social media covering the event. 
On June 24th, a collective of Global Telemetrics team members and directors will be competing in the Tough Mudder run for charity, a 15km course with 30 obstacles to challenge all those that take part. Our colleagues will be supporting Rainbows Hospice for Children and Young People in Loughborough. More information about the amazing work Rainbows do can be found here https://www.rainbows.co.uk/ and you can donate to our team through their just giving link which can be found here 
Global Telemetrics are proud to announce that during Quarter 3 of 2023 we have recovered £8m worth of vehicles which now puts us on a total of £29.8m for 2023 as a whole.
Q3 for 2023 see's a rise of 300k on last year's Q3 and £3.3m ahead of 2022's by Q3 total recovered value of £26.5m.
During September, Global Telemetrics were responsible for the recovery of £3.1m worth of vehicles.
Stolen cars worth £3.2 million pounds were recovered by Global Telemetrics in August 2023.