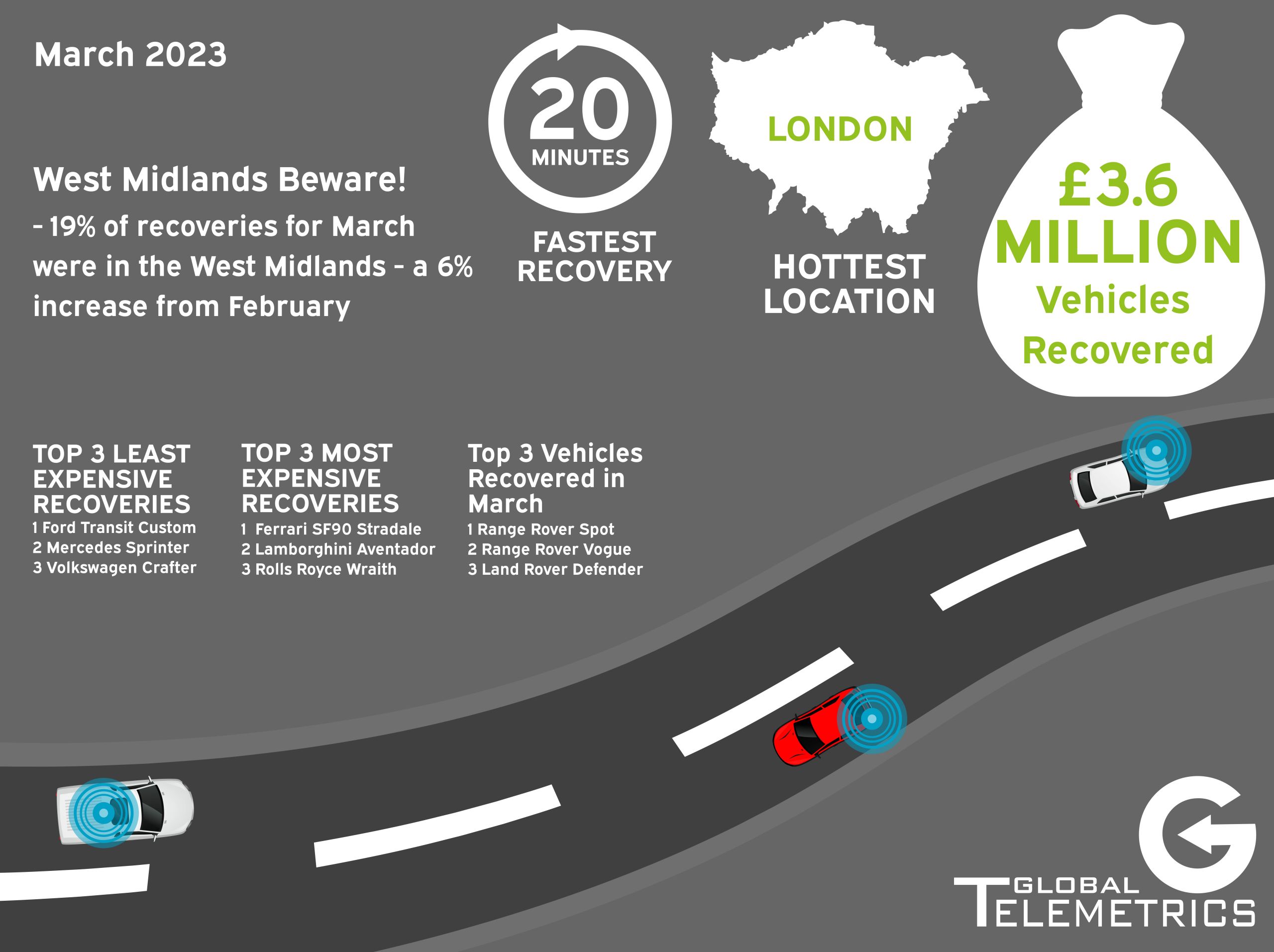 As the first quarter of 2023 draws to a close, Global Telemetrics remains on track to hit the projected recovery total of £40m of vehicles by year-end. March proved to be a busy month for the team, with £3.6 million worth of vehicles recovered. This is a £1.1m increase from last month's figure of £2.5m, and brings our Q1 figure to £9.6m.
March Facts and Figures
Continuing the trend, Jaguar Land Rover once again dominates the recovered vehicles list, making up for 62% of vehicles recovered in March (12% higher than last month!).
Other notable vehicles recovered this month included: an Audi Q7, a Ford Transit, a Volkswagen Crafter, a Ferrari SF90 Stradale, a Rolls Royce Wraith, a Takeuchi TB219, a Volkswagen Golf R, a Lamborghini Aventador and Mercedes models including a Sprinter and an AMG GTC.
March Fastest Recovery 
This month our Repatriations team were quick off the mark to recover a Range Rover Vogue within 20 minutes of it being reported stolen to us.
Marchs Most Interesting Recovery
This month, Global Telemetrics recovered a Lamborghini Aventador that had been taken to Amsterdam. The Repatriations Team has agents across Europe meaning they are prepared for situations such as this. The team were able to locate and recover from an underground car park in the Dutch capital, proving that the team are able to recover vehicles even if they are hidden away!
Hotspots
London continues to be the most high-risk location, making up for 23% of vehicles recovered this month. Breaking it down even further shows that of this 23%, Wandsworth made up 50% recoveries, making it the hottest borough in the City. The West Midlands saw a rise in recoveries of 6% from February  (13%), making up for 19% UK-wide. 3rd place in March goes to Lancashire with 12% of recoveries for the month.
Looking Forward
Without giving away too much of a spoiler, already the first few days of April have seen some significant vehicles recovered, with not even a week gone at the time of writing, March's recovery total is almost surpassed. As the warmer weather approaches we expect more motorhomes and caravans to emerge from storage which will sadly lead to an increase in thefts.
To protect your assets, further information on the products we provide can be found on our website https://smartrack.uk.net or by giving us a call on: 0800 279 6401 or via email at: sales@smartrack.uk.net
You can also find all of our social media channels here: https://linktr.ee/globaltelemetrics
Global Telemetrics are proud to announce that during Quarter 3 of 2023 we have recovered £8m worth of vehicles which now puts us on a total of £29.8m for 2023 as a whole.
Q3 for 2023 see's a rise of 300k on last year's Q3 and £3.3m ahead of 2022's by Q3 total recovered value of £26.5m.
During September, Global Telemetrics were responsible for the recovery of £3.1m worth of vehicles.
Stolen cars worth £3.2 million pounds were recovered by Global Telemetrics in August 2023.