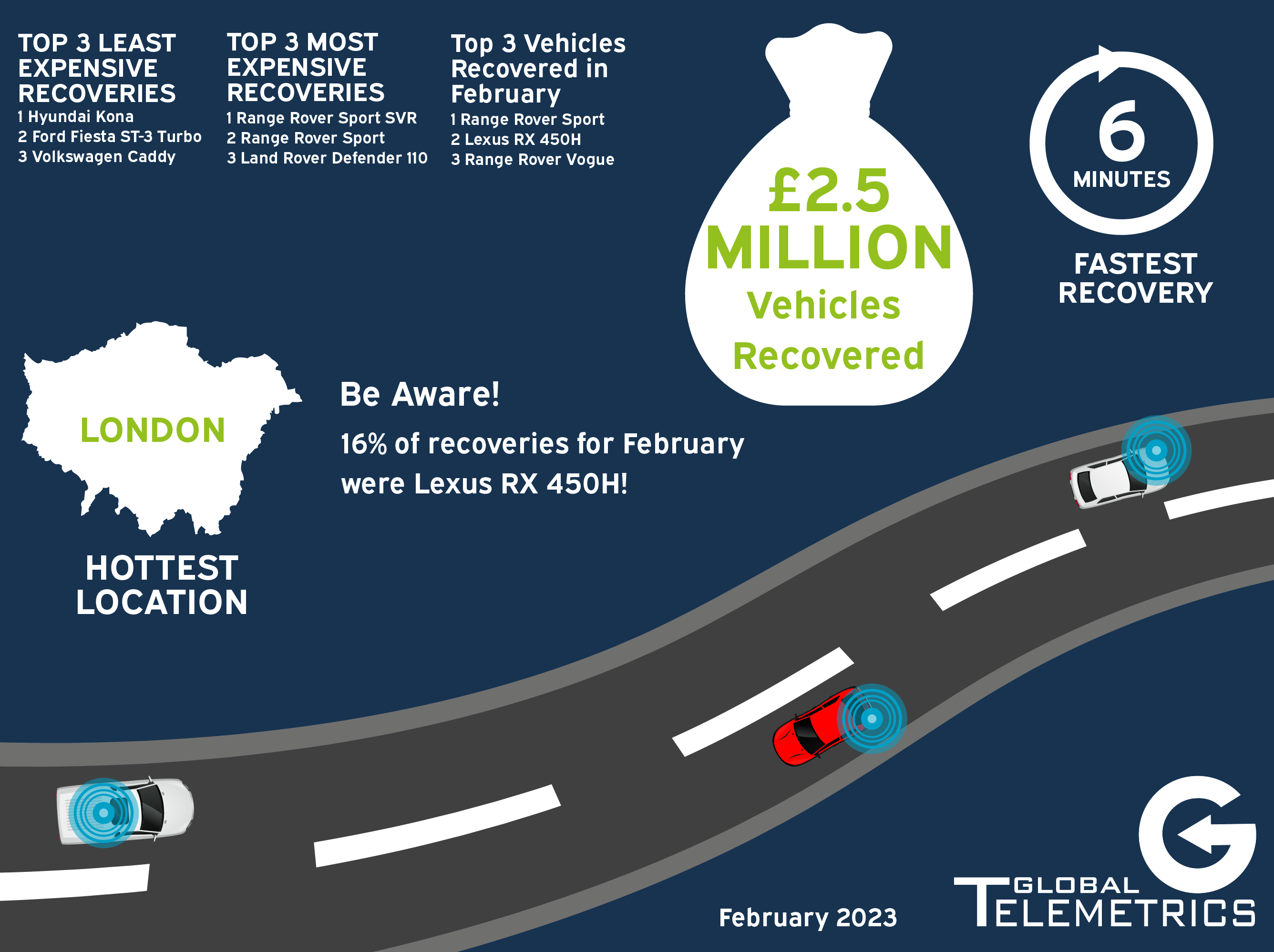 This February, Global Telemetrics recovered £2.5m worth of vehicles. This is £500k more than February of 2022, and £800k more than February of 2021, highlighting the continuing rising trend in vehicle theft across the UK. 
We remain on course to hit our projected recovery total of over £40m worth of vehicles by year-end 2023, compared with £38.6m worth of vehicles recovered in 2022.
February facts and figures
As with most of our highlights blogs, Jaguar Land Rover vehicles continue to dominate the recovered vehicles list, making up for 50% of all recovered vehicles by Global Telemetrics this month.
Lexus RX 450H joins the top 3 list, coming in at 16% of all February recoveries. One notable recovery of a Lexus RX 450H led to the recoveries of 2 further Lexus's, both of which did not have Global Telemetrics trackers fitted. This was one of 3 occasions this month, where a recovery of a Global Telemetrics tracked vehicle directly led to the recovery of a non-tracked vehicle.
Other notable vehicles recovered this month include a Volkswagen Caddy, a Ford Fiesta ST-3 Turbo, a BMW X3.an Audi RS3, a Ford Ranger Raptor, a Hyundai Kona and a Mercedes X250
February's Fastest Recovery / Most Interesting Case
This month's fastest recovery was achieved just 6 minutes after being reported to us. Our customer called the Secure Control Centre to report that his Broadway Autosleeper, equipped with one of our SmarTrack S7 devices, had been stolen. Our secure control centre immediately contacted the Repatriations Team with the location. Global Telemetrics works closely with a dedicated Repatriations Team who liaise with the police to recover vehicles for our customers. This eases pressure on the police forces and also ensures a safe recovery for our customers. The Repatriations Team stay with a secured vehicle until recovery can take place either for SOCO investigation or the customer can collect the vehicle. The following video highlights this in action. 
This month, 6% of our recoveries were motorhomes, compared with 3% last February. With the spring around the corner, we expect to see this increase further. Global Telemetrics have released a short awareness film to highlight the potential thefts of motorhomes. 
This month, Global Telemetrics visited the NEC Caravan, Camping & Motorhome Show, along with our colleagues at Motorguard, to promote their new product – ESA Track. ESA Track is a tracking device for motorhomes, which is monitored by the Global Telemetrics Secure Control Centre. It was great to meet some of our current and new customers during the show, as well as show our support to one of our dealers.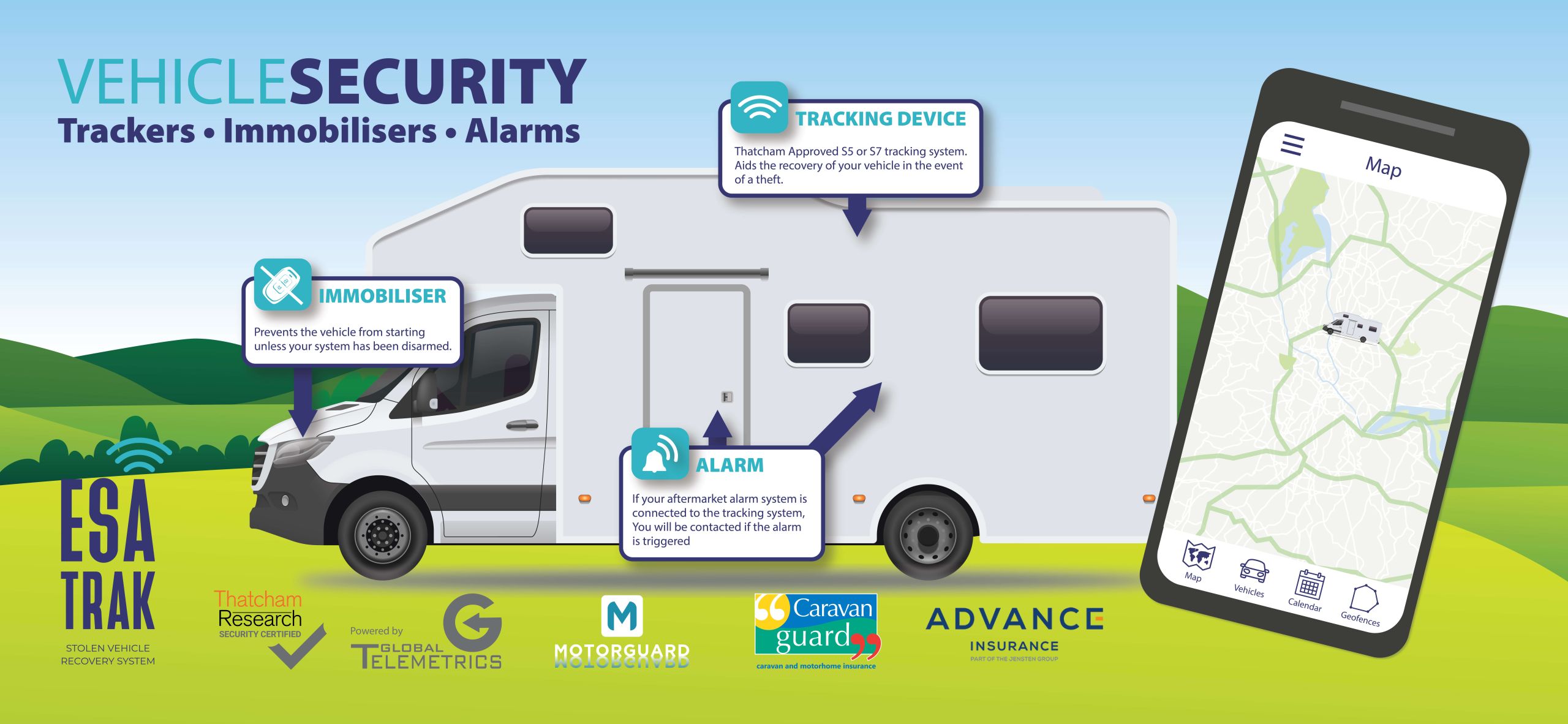 Recently, we released a blog raising awareness of the theft of motorhomes and caravans which can be found here 
Hotspots
London continues to be a high-risk area, making up for 25% of all recoveries during February. The West Midlands remain second, representing 13% of recoveries in the country. Essex once again takes 3rd place with 9% of recoveries. Other locations targeted throughout February were South Yorkshire, Derby, Leicestershire, Lancashire, Surrey, Liverpool and West Yorkshire.
Looking forward
With the cold weather set to continue for a few more weeks, we are still seeing a spate of thefts reported during deicing. Recently, insurance companies warned customers that vehicles may not be covered if stolen when left to de-ice or warm up. More info can be found in this article. 
Global Telemetrics have once again been announced as a Premier Partner for the Supercar-Driver Secret Meet in July, this is an event we are very proud and excited to be a continued part of, more information of the build up can be seen across the Supercar-Driver social media channels and on their website. 
To protect your assets, further information on the products we provide can be found on our website https://smartrack.uk.net or by giving us a call on: 0800 279 6401 or via email at: sales@smartrack.uk.net
You can also find all of our social media channels here: https://linktr.ee/globaltelemetrics 
Global Telemetrics are proud to announce that during Quarter 3 of 2023 we have recovered £8m worth of vehicles which now puts us on a total of £29.8m for 2023 as a whole.
Q3 for 2023 see's a rise of 300k on last year's Q3 and £3.3m ahead of 2022's by Q3 total recovered value of £26.5m.
During September, Global Telemetrics were responsible for the recovery of £3.1m worth of vehicles.
Stolen cars worth £3.2 million pounds were recovered by Global Telemetrics in August 2023.