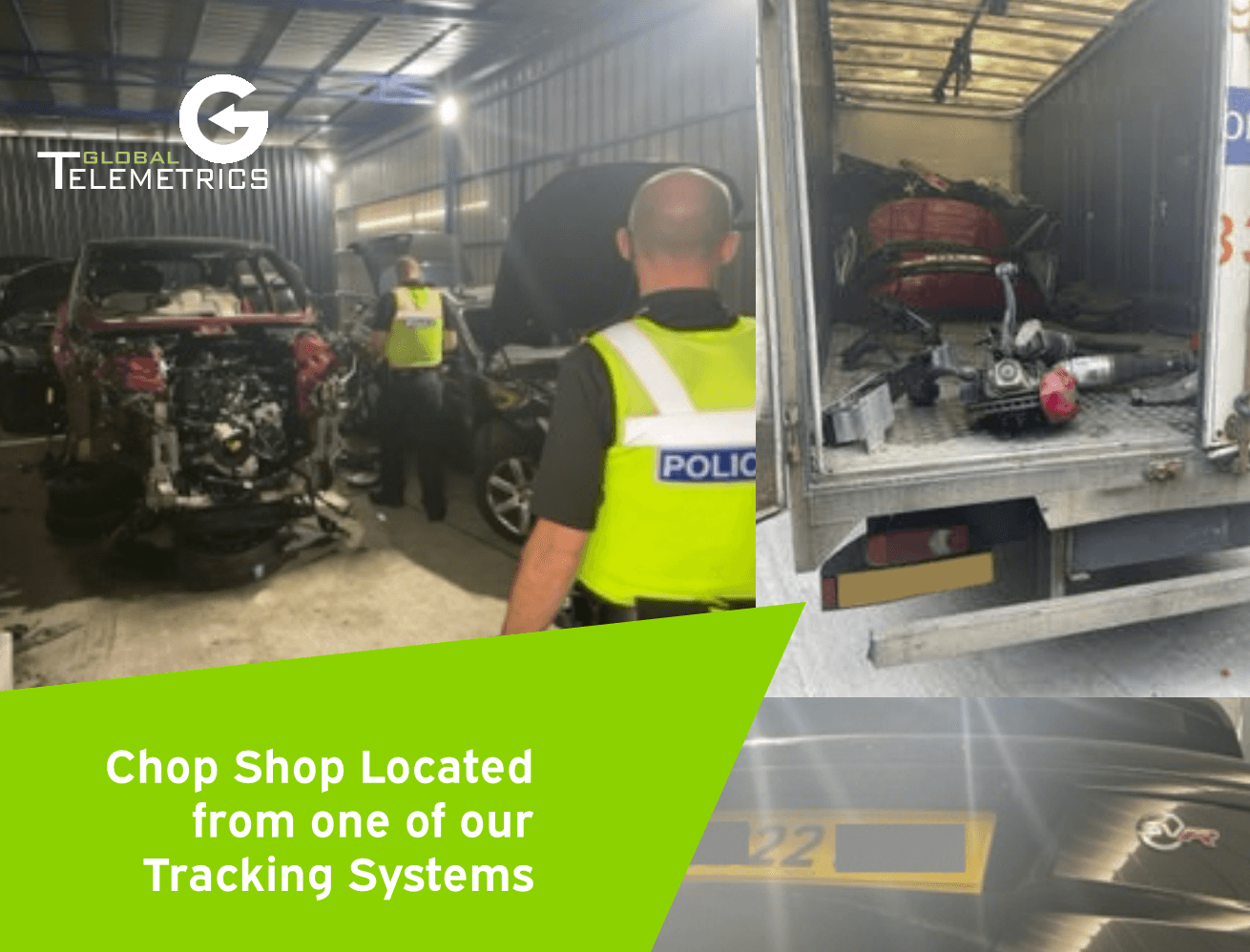 Chop Shop Stopped! 
Earlier on in July we had a report to our control centre that our customers' Range Rover SVR had been stolen. After contacting our control centre armed with their crime reference number our Stolen Vehicle Recovery Team leaped into action and immediately started the process of locating the vehicle.
So far, halfway throughout the year Range Rover's have made up 60% of all vehicles recovered by Global Telemetrics. The rise of keyless theft has recently been highlighted in our information video as seen below 
In the usual event of a theft of an asset the following process will occur: 
Customer will report their vehicle stolen on our dedicated theft line/Global Telemetrics will ring the customer to make them aware of one of the alerts that our system generates (Vehicle moving without ignition, Battery disconnected, Driver Detection not present)

If not already obtained, customer will be advised to ring the police and obtain a crime reference number

Global Telemetrics work with our agents who work alongside the police to secure your asset. Upon a receipt of crime reference number, agents will attend the location of your vehicle

As a safety precaution, upon notifying Global Telemetrics of a theft all access to our apps is temporarily disabled. We will keep the owner informed of any updates so they can rest assured everything is in hand. Global Telemetrics will not provide customers with an exact location of the asset to avoid customers endangering themselves

When the vehicle is secured, Global Telemetrics will call the customer to confirm that the vehicle is safe

The police will arrange with the customer collection of the vehicle either from its location or after recovery and forensic examination 
Armed with the location, immediately, our repatriations team and the police headed to the area. In a lot of recoveries everything is fairly straightforward and much a case of locating the vehicle and either returning back to the customer or taking the vehicle for further investigation. 
For this recovery, the police force and repatriations team believed there was more than meets the eye and suspected they could have found something more than just the one vehicle. After a period of surveillance West Midlands Police alongside the Disrupting Criminality team and our repatriations agents engaged with the location. 
Upon entry, the location was revealed to be a chop shop which had 8 stolen vehicles inside either whole or already in parts, one of which was the stolen Range Rover with the SmarTrack device which had led to this chop shop's downfall! 
Stopping chop shops are a huge part of the police force and our repatriations teams work. Chop shops have 3 massive effects: Vehicles are sold under market rate and unsafe, Insurance premiums increase for the victim of theft and Insurance premiums in general increase due to the amount of stolen vehicles. Our teams across the UK and Europe are proud to be a part in disrupting this criminal activity. Global Telemetrics offer a range of different SmarTrack devices to suit every customer's needs, whether you require driver detection, mileage reports, journey historys or just want a covert device which sits in the background calling in only once a day. We have a product and plan that will suit your needs. Further information on the products we provide including our  can be found on our website https://smartrack.uk.net or by giving us a call on: 0800 279 6401 or via sales@smartrack.uk.net
You can also find us on social media at:
Twitter: https://www.twitter.com/globaltele
Facebook: www.facebook.com/globaltelemetrics
Instagram: https://www.instagram.com/globaltelemetrics
Tiktok: @globaltelemetrics
LinkedIn: https://www.linkedin.com/company/global-telemetrics
Clocks have gone back and dark nights are here. Soon cars will start to freeze over and the age old problem of people leaving their vehicles unattended will begin to arise. Meanwhile Spooky Season was lively as the ghouls and goblins were out stealing cars.
Recovery totals have now hit £30 million for the year as October's recovery totals hit just under £2.9 million. This was £1 million more than the same period last year. Car theft is showing no signs of slowing down as the year comes to a close.
Three more eventful months have passed and we now find ourselves at the end of Q3 and into Q4.The football season restarted and the World Cup isn't far away, a Tennis legend retired, Kylie and Jason revisited Ramsay Street as we said goodbye to Neighbours. We now have a new King after a historic world record reign from Queen Elizabeth II.
For Global Telemetrics, we have now surpassed last year's recovery total. 2021 saw £23 million pounds worth of vehicles recovered but now at the end of September 2022 this figure sits at £28m
2022 has been a successful year when it comes to recoveries for Global Telemetrics, not only did we surpass our total from 2021 as early as September, we have seen a number of our recoveries lead to other vehicles being recovered at the same time, allowing us to reunite more customers with their vehicles. The following case is one of those incidents.